Director of the Domestic Nuclear Detection Office: Who Is L. Wayne Brasure?
Saturday, January 21, 2017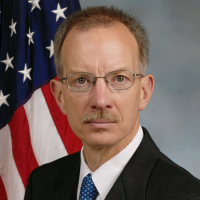 Wayne L. Brasure
Dr. L. Wayne Brasure, a physicist and former Air Force officer, was named in October 2016 to head the Domestic Nuclear Detection Office (DNDO).
Brasure was born February 21, 1958, in Petoskey, Michigan. He grew up in Northville, Michigan, son of a Presbyterian minister. As a teen, Brasure was an amateur astronomer and he went on to earn a B.S. in physics and astronomy at the University of Michigan in 1980. He went into the Air Force, with his first assignment as an operations research analyst at Vandenberg Air Force Base in California. While there, he worked on a M.S. in systems management at the University of Southern California, earning that in 1983. Brasure then took time off to earn an M.S. in nuclear engineering at the Air Force Institute of Technology in 1985. He then served as a nuclear research officer and chief of the Lethality Projections Branch.
Brasure subsequently returned to school, this time at the University of New Mexico, where he earned a Ph.D. in nuclear engineering in 1991. By now a major in the Air Force, he then taught physics for a time at the Air Force Academy and at New Mexico.
In 1995, Brasure was named chief of the Nuclear Assessment Branch at Patrick Air Force Base in Florida, and the following year was made chief of Atmospheric Sciences there. He moved to the Lawrence Livermore National Laboratory in California in 1998 as chief of the lab's detachment of the Defense Threat Reduction Agency. In 2001, he was made director of the Air Force's High Power Microwave Program at Kirtland Air Force Base in New Mexico.
Brasure dipped a toe into the private sector in 2003 as division manager and senior staff scientist at Albuquerque defense contractor Science Applications International. In 2006, however, he was back in government service as chief of the Stockpile Systems Division of the Air Force Nuclear Weapons and Counterproliferation Agency at Kirtland. Brasure moved to the Department of Energy in 2008 as stockpile sustainment manager at the National Nuclear Security Administration. In 2010, he was named executive director of the Air Force Nuclear Weapons Center at Kirtland, and in 2014 Brasure became director of the Air Force Office of Scientific Research. Later that year, he moved to DNDO as deputy director and acting director. In 2016, he was made the agency's Component Acquisition Executive, in conjunction with his appointment to the directorship.
Brasure's wife, LeAnn, is also a former Air Force officer and a physics professor. They have two adult children.
-Steve Straehley
To Learn More: