Immigrants Fear Signing Up as "Dreamers" May Backfire Under Trump
Sunday, November 27, 2016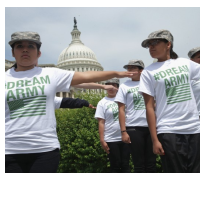 Undocumented youth aspiring to serve in U.S. military (photo: Chris Somodevilla, Getty Images)
By Hamed Aleaziz, San Francisco Chronicle via New York Times
SAN FRANCISCO -- May 21, 2013, was the best day of Paola's life.
It was the day she learned that she had been accepted into the Deferred Action for Childhood Arrivals program, or DACA, a federal program for certain people who had entered the U.S. as children and were undocumented. Paola, now 23, had arrived in the U.S. with her parents from Mexico more than two decades before as a 2-year-old.
When she felt a card inside the envelope announcing the decision that day, she knew it was a work permit and that she had been approved. She broke out in tears, finally feeling accepted in her country.
She never imagined that years later, she would worry that becoming part of the program might put her at risk of deportation.
With the application she submitted, the federal government has her photograph, address and fingerprints -- sensitive information that is guarded by many in the immigrant community. Her father did have early concerns that the information the program gathered would put applicants at risk, but those fears subsided as they saw others obtain approvals.
Now Paola, who agreed to speak on the condition her last name not be used, is one of hundreds of thousands of people watching how President-elect Donald Trump will deal with immigrants when he takes office. On the campaign trail, Trump promised to deport 11 million undocumented immigrants. More recently, he said he would begin by deporting those who have committed crimes, but he has avoided discussing other specific plans.
That leaves Paola and those like her with a unique anxiety. More than 741,000 people were approved for the deferred action program, created by the Obama administration in 2012 to allow those who qualified to defer deportation for two years and obtain a work permit. Not quite a third of those accepted into the program live in California, and many are worried that they may become targets for deportation since they are already known to the government.
``It's hard to focus on other things,'' she said. ``President-elect Trump wants to deport 11 million people, and the easiest ones would be us because they already have our information. I think about it every day.''
Some members of Congress are scrambling to try to protect deferred action participants -- sometimes referred to as ``Dreamers'' -- before the Trump administration takes office in January.
The office of Rep. Judy Chu, D-Calif., has received countless calls from both program recipients and advocacy organizations. Chu is asking the Obama administration to step in and protect the information from being used punitively.
``We need to protect these people,'' Chu said in an interview with The Chronicle. ``We have to do the right thing or risk losing the trust of the most vulnerable in this country. And America can be better than that, and we should be better than that.''
Her office has suggested how the Obama administration could address the issue:
The president could issue an executive order protecting the identities of those who applied for the deferred action program. That would force president-elect Trump to take action to undo Obama's order, which could signal that more deportations will occur.
Other congressional leaders, including Rep. Zoe Lofgren, D-Calif., called on Obama to pardon the group, but a White House official told reporters Thursday that ``clemency power could not give legal status to any undocumented individual.''
Obama has already implored the president-elect to think ``long and hard'' before endangering the status of the group, whom he said that ``for all practical purposes are American kids.''
``It is my strong belief that the majority of the American people would not want to see suddenly those kids have to start hiding again. And that's something that I will encourage the president-elect to look at,'' he said.
The deferred action program made it possible for Paola and many others to attend college. In high school, she earned a 4.5 GPA but was worried she would never be able to go to a good college because she was undocumented. But after being approved for the program, she was accepted into a Northern California university and is on track to graduate with a double major in legal studies and Latin American studies.
Achievement like hers is not unusual among deferred action recipients, a 2015 survey shows. The Center for American Progress, a progressive think tank in Washington, D.C., found that deferred action recipients' average hourly wages went up 45 percent, while 92 percent pursued educational opportunities that they previously could not.
But these days, she wonders whether taking part in the program was worth it. She has trouble sleeping, paying attention in class and keeping herself from crying.
Jose Arias, a 30-year-old who came to California with his parents from Mexico as a child, said the program finally gave him a chance to consider dreaming of a career, because it gave him a work permit. Now, he wonders what's next for him.
The reason he and so many others ``came out from the shadows,'' he said, ``was that we wanted to be part of the states -- not to create a profile to be rounded up and (sent) back to the country we hardly even know,'' Arias said.
The federal government needs a legal basis to begin proceedings to remove an undocumented person. That can include proving a person born abroad either overstayed a visa or entered the country without permission. All of the individuals who applied for the deferred action program provided that information in their applications.
Immigration officials, said Irma Perez, an immigration attorney in Hayward, could use that information to serve program applicants and recipients and begin removal proceedings.
``That's really what can happen. Will it happen? I don't know,'' said Perez, who has fielded calls from panicked clients for the past week.
But some, such as Kevin Johnson, dean of the University of California at Davis School of Law and an immigration law expert, believe it is unlikely that the Trump administration would go after the deferred action population by using the information the group handed to the government.
Johnson said that could be a political disaster -- the population is young, educated and either working or trying to get jobs and contribute to society. It would be an extraordinary action, he said, and carry the risk of the immigrant community never cooperating or trusting the government again.
``I think it would be an unprecedented moment in U.S. immigration history to use this kind of voluntarily given information solicited in good faith for a relief program and turn it around to try to engage in mass deportations,'' he said.
He also predicted that any attempt to use the information against the applicants would be met with a robust legal objection. Advocates could cite the fact that the U.S. Citizenship and Immigration Services' website tells deferred action applicants that their information will not be shared with immigration enforcement officials for the purpose of deportation -- except under exceptional circumstances. The agency pointed to that statement when asked for comment on how the information would be protected.
The logistics of carrying out a mass deportation of any kind would also be an obstacle. In a primer on immigrants rights on its website, the advocacy group the Mexican American Legal Defense and Educational Fund says that deporting hundreds of thousands of deferred action recipients would be time consuming and expensive. Hundreds of thousands of removal proceedings already under way are clogging U.S. immigration courts.
Vanessa Pumar, an immigration attorney at Catholic Charities of the East Bay, was the first deferred action recipient to be admitted to the State Bar. She said in an interview that she wants the immigrant community to stop being fearful. She's told her clients they should stop trying to predict the future, and reminded them that the program is still in place right now. Trump could decide to keep it, or allow those who applied and were accepted a chance to keep their work permits, she tells clients.
``Our community was already fearful. It has been in the shadows for so long until the DACA movement,'' she said. ``I don't want this fear to drive people to go back into the shadows.''
If Trump does attempt to scrap the program and use the information they volunteered against them, the immigrant community will be ready to push back, she said. It has political pull and is highly organized. Pumar is ready to use her legal education to her community's benefit, she said.
``I don't think this is a population that is going to step back and say, 'Take it away, here's my work permit, you can deport me tomorrow,''' she said. ``We now have the tools to defend our community. There are people willing to fight, but people have to fight for themselves, too.''
To Learn More:
Private Prison Industry May be Big Winner in Trump/Sessions Immigrant Deportation Plans (by Rebecca Boone, Associated Press)
U.S. Health Crisis Could Result from Mass Deportation of Undocumented Citizens, Medical Group Warns (by Noel Brinkerhoff, AllGov)
Donald Trump Has a Plan for Deporting Millions of California Illegal Immigrants (by Ken Broder, AllGov California)