Checkpoint That Turned Up Eight Kilos of Cocaine Is Ruled Unconstitutional
Wednesday, September 28, 2016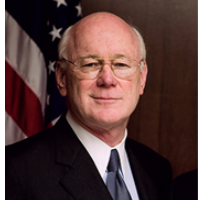 U.S. District Judge Lynn Hughes
By Cameron Langford, Courthouse News Service
HOUSTON — Texas police who found 8 kilos of cocaine during a random search of a Greyhound bus "created a checkpoint that trespassed on the Constitution" so the drugs cannot be used as evidence, a federal judge ruled.
U.S. District Judge Lynn Hughes on Friday granted Morris Wise's motion to suppress the cocaine.
Wise, 36, boarded a Chicago-bound Greyhound bus in Houston on Sept. 15, 2011. About an hour after the bus left Houston, the driver pulled into a gas station in Conroe that Greyhound uses as a rest stop. Five Conroe police officers were waiting for the bus. Four of them were wearing plainclothes with their guns and badges concealed, and a uniformed officer with a drug-sniffing dog stood at the edge of the gas station's parking lot, according to the case record.
"Two of the officers — Randy Sanders and Juan Sauceda — approached the driver as he stepped off the bus. They asked to search the passenger cabin and the luggage hold for drugs. The driver agreed," Hughes wrote in an eight-page order (pdf).
Greyhound spokeswoman Lanesha Gipson said its policy is to let police search its buses.
"We fully cooperate with local authorities and allow them to board the bus to do a search if they ask to do so," Gipson said in an email.
Seated in the middle of the bus, Wise pretended to be asleep as Sanders walked past him, but Sanders noticed his eyes fluttering.
Sanders asked Wise if he had luggage and Wise pointed to a duffle bag and backpack in a rack above his seat. Wise gave officers permission to search the bag and they found nothing unusual.
Wise denied that a backpack, which had a padlock on it, was his. After the officers asked other bus passengers if the backpack belonged to them and no one claimed it, they removed it from the bus and had the dog smell it and other luggage.
"Saying that the dog alerted to drugs, the officers used bolt-cutters to cut the lock's shackle. Inside were seven packages wrapped in white cellophane. Cutting into the smallest bundle, the officers saw what they thought was cocaine," Hughes wrote.
The officers called Wise off the bus and one of them noticed he had a lanyard with keys attached to it. One of the keys fit the padlock and Wise was arrested.
A Montgomery County grand jury charged Wise with possession of a controlled substance in September 2011, to which he pleaded no-contest.
Though the judge could have sentenced Wise to 5 to 99 years in state prison, she took into account his work history, college education and otherwise clean criminal record and sentenced him to 90 days in county jail and 10 years deferred adjudication.
His state trial attorney Michael McDougal said the charge will be dismissed if Wise abides by the probation terms.
But Wise couldn't put the incident behind him because a federal grand jury charged him and others in April 2012 with conspiracy to possess with intent to distribute cocaine, and possession with intent to distribute cocaine.
Eight of Wise's co-defendants pleaded guilty to the conspiracy charge and got sentences ranging from time served to 148 months in federal prison.
The federal charges were based on the defendants' conspiracy to transport the cocaine across state lines.
But Judge Hughes blasted federal prosecutors for pursuing charges against Morris, rather than telling the Conroe Police Department its random bus searches are illegal.
"Brief stops at checkpoints are reasonable if they are for a narrow particular law enforcement purpose directly connected to the use of the roads," Hughes wrote, citing Supreme Court precedent.
"Police can use a checkpoint to remove drunk drivers, verify licenses and registrations, and run immigration checkpoints near the border. A checkpoint that seeks merely to uncover evidence of ordinary crimes, like possession of narcotics, violates the Fourth Amendment."
Hughes rejected the idea that the search was legal because Greyhound's driver consented to it, nor was he impressed by other arguments from the government.
"The justifications by the cranky officers at the hearing were a string of phrases — purloined out of context from court decisions — to cover a raid on an unoffending bus and its passengers."
Hughes said that Greyhound is "economically coerced to adopt policies of compliance" to police searches because if it refused, it would be "risking the ire of every excessively zealous or corrupt police force in the places through which its buses travel," which could throw its buses off schedule.
The judge's final blast was against the federal government: "The officers' abuse of their authority is bad; however, the federal government's bad judgment in bringing this case is worse. Because it did not tell Conroe that it needs to change its policies or decline to prosecute Conroe's cases for its tactics, it has reinforced the officers' illegal evasions. It may need statistics to justify its funding to Congress, but this is a weak and mean way to cater to its bureaucratic imperative."
Hughes also issued a show-cause order, giving prosecutors until Sept. 30 to explain why Wise's federal case does not subject him to double jeopardy, as he already has been sentenced for cocaine possession in state court.
Asked Monday if the government would drop Wise's charges, a spokeswoman for U.S. Attorney Ken Magidson said that prosecutors were reviewing Hughes' orders and considering their options.
The Conroe Police Department did not respond to a voice message asking if it still randomly searches Greyhound buses.
To Learn More:
Illegal Border Activity used by U.S. to Justify Warrantless Searches (by Noel Brinkerhoff, AllGov)
Oakland Pays $4.6 Million for Public Strip Searches but Keeps Policy on the Books (by Ken Broder, AllGov California)
Customs to Pay Nearly Half-Million Dollars in Body Cavity Search Settlement (by David Lee, Courthouse News Service)