Illegal Border Activity used by U.S. to Justify Warrantless Searches
Wednesday, September 11, 2013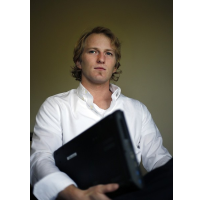 David House (AP photo)
The Obama administration has been accused of subverting the law and violating civil liberties by using border crossings as an opportunity to seize the personal property of individuals not accused of committing any crime.
Customs and Border Protection (CBP) will confiscate computers, cell phones and other possessions belonging to people without first obtaining a warrant. The agency gets away with this action by citing the fact that the individual was wanted for questioning, though they may not be an actual suspect in a criminal or national security matter.
David House is one prime example.
A fundraiser for the legal defense of Chelsea Manning, formerly known as Private Bradley Manning, House had his laptop, camera, thumb drive and cellphone seized by border patrol agents upon returning from a trip to Mexico in November 2010.
The government had questioned House about his association with Manning months before his trip to Mexico. But he was not asked at that time by officials for permission to search his computer.
When he later attempted to reenter the U.S., CBP noted that Immigration and Customs Enforcement (ICE) had issued an alert on House indicating he was wanted for questioning regarding the leak of classified materials by Manning. The warning informed agents to "secure digital media" from House if he appeared at the border.
Once his electronic devices were seized, ICE extracted their data and sent it to the Army Criminal Investigation Command, which examined more than 26,000 files and found no evidence of a crime.
The ordeal left the 26-year-old House fearing he would lose his job as a computer programmer, and concerned about the government's breach of his privacy—especially its gaining access to a confidential list of names of financial donors to Private Manning's legal defense.
House sued the Department of Homeland Security, which oversees CBP and ICE, claiming the government had illegally taken his possessions. As part of a settlement reached between the parties, DHS released documents from House's file, which were then provided to The New York Times.
"To critics, the documents show how the government can subvert Americans' constitutional protections against unreasonable search and seizure, but the confiscations have largely been allowed by courts as a tool to battle illegal activities like drug smuggling, child pornography and terrorism," the Times' Susan Stellin wrote.
House told the newspaper: "Americans crossing the border are being searched and their digital media is being seized in the hopes that the government will find something to have them convicted," he said. "I think it's important for business travelers and people who consider themselves politically inclined to know what dangers they now face in a country where they have no real guarantee of privacy at the border."
Although a court ruling in March set limits on such searches, requiring reasonable suspicion of criminal activity, CBP continues to conduct about 15 electronic device searches per day at the border. It is not known what percentage of those is conducted within the parameters of the court's order.
-Noel Brinkerhoff
To Learn More:
The Border Is a Back Door for U.S. Device Searches (by Susan Stellin, New York Times)
House v. Napolitano (American Civil Liberties Union)
Federal Court Limits Cell Phone and Laptop Searches Near Border (by Matt Bewig, AllGov)
Homeland Security Approves Seizure of Cell Phones and Laptops within 100 Miles of Border; Report Remains Secret (by Matt Bewig, AllGov)