U.S. House Republicans, as Election-Season Tactic, Vote to Halt Guantánamo Detainee Transfers
Sunday, September 18, 2016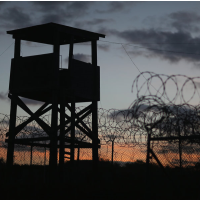 Guantánamo prison (photo: Joe Raedle, Getty Images)
By Mary Clare Jalonick, Associated Press
WASHINGTON (AP) — The House on Thursday backed election-year legislation that temporarily would halt the transfer of more detainees from the U.S. naval prison at Guantanamo Bay, Cuba.
The bill (pdf), which passed by a 244-174 vote, would bar the federal government from spending money on any Guantanamo prisoner transfers, even those to a foreign country. The ban would last until the end of the calendar year, or until a bill authorizing defense funding is signed into law.
The White House has threatened a veto, and the measure has no chance of becoming law. But the bill is an opportunity for Republicans to put Democrats on record on the issue in the weeks before the Nov. 8 election and use their votes against them in campaigns.
Within minutes of the vote, the House Republicans' campaign committee sent out a news release with the headline, "Democrats vote to close GITMO and bring terrorists to U.S. soil (again)."
Republican backers said the transfers could allow some detainees to eventually return to terrorism and could threaten American communities when prisoners are transferred to prisons on U.S. soil.
Rep. Randy Forbes, R-Va., said that when these prisoners are held in a U.S. jail or prison, "you have just put a target on every school, every business, every mall in that community."
The White House argues Guantanamo weakens national security by draining resources and emboldening violent extremists. About 60 prisoners are being held there, down from hundreds. The administration says transfers occur only after a rigorous review. The Pentagon is still weighing which maximum security facilities could handle the remaining detainees.
After the vote, the White House said the House is playing politics.
"I understand the politics of this are tough, but when it comes to America's national security, at some point that should rate higher on the priority list than an individual's re-election prospects," said White House press secretary Josh Earnest.
According to a report (pdf) released Wednesday by the Office of the Director of National Intelligence, 122 of 693 detainees transferred out of the prison, or 17.6 percent, have returned to fighting. That's four more than the 118 recorded as having re-engaged in militant activities, in a report issued in March.
The report said an additional 86 detainees are suspected of having returned to fighting.
House Speaker Paul Ryan, R-Wis., said the report underscored the need for the legislation.
Democrats said the legislation would strip Obama of his lawful authority over the prison.
"This bill is un-American and extreme," said Rep. Jerrold Nadler of New York.
Associated Press writer Darlene Superville contributed to this report.
To Learn More:
H.R. 5351 (U.S. Congress) (pdf)
Why are Pentagon Leaders Trying to Stop Prisoners from being released from Guantánamo? (by Noel Brinkerhoff and Steve Straehley, AllGov)
Moving Guantánamo Prisoners to Super-Max Prison in Colorado: Obama vs. Congress (by Steve Straehley, AllGov)
Federal Judge says Prisoner must Stay at Guantánamo because U.S. is Still at War in Afghanistan even if Obama Says War is Over (by Noel Brinkerhoff, AllGov)
Congressional Republicans Fight Hard to Keep Guantánamo Open Forever (by Noel Brinkerhoff, AllGov)