Obama Administration Suspends Construction of Part of North Dakota Pipeline
Sunday, September 11, 2016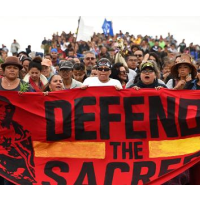 Native Americans protest N. Dakota pipeline bulldozing over sacred burial ground (photo: Robyn Beck, AFP/Getty Images)
By Jack Healy and John Schwartz, New York Times
BISMARCK, N.D. — The federal government on Friday temporarily blocked construction on part of a North Dakota oil pipeline, an unusual intervention in a prairie battle that has drawn thousands of Native Americans and activists to camp and demonstrate.
In announcing the pause, the government acknowledged complaints from the Standing Rock Sioux and other tribal nations that their concerns had not been fully heard before federal overseers approved a pipeline that the tribe said could damage their water supplies and ancestral cultural sites. The Justice Department and other agencies called for "serious discussion on whether there should be nationwide reform with respect to considering tribes' views on these types of infrastructure projects."
The tribe in a statement called the federal order "a game changer."
The government's move, announced minutes after a federal judge rejected efforts by the Standing Rock Sioux, appeared to seek to ease tensions and reset the terms of a passionate debate that has cast the 1,170-mile Dakota Access pipeline either as an economic boon for the Plains or a threat to the Native American sovereignty, waters and lands. But perhaps more significantly, it appeared to signal a broader willingness to re-examine the involvement of the tribes in infrastructure decisions like this one.
The government said it would invite tribes to attend formal consultations about how they might work together on federal decisions on tribal lands and on whether future legislation is needed.
In his ruling, Judge James E. Boasberg of U.S. District Court in Washington described a series of attempted meetings and missed communications between government and tribal officials; the judge suggested that the lack of cooperation was mostly on the part of the tribe, while "the Corps has documented dozens of attempts it made to consult with the Standing Rock Sioux from the fall of 2014 through the spring of 2016" on the pipeline plan.
In a joint statement from the departments of Justice and Interior and the Army, the government announced that the pause applied to the pipeline's path across a sliver of federal lands and under a dammed section of the Missouri River known as Lake Oahe. The lake, created by government-built dams a half-century ago, is a water source for the Standing Rock Sioux and a focal point of the dispute.
To Learn More:
Native American Tribes Protest Pipeline Construction (by Levi Lass, Courthouse News Service)
292 Unreported Oil Pipeline Leaks in North Dakota in less than 2 Years (by Matt Bewig, AllGov)