Obama Signs Expansion of Freedom of Information Act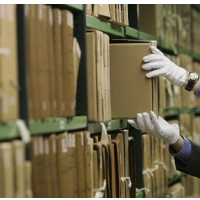 Credit: Scott Barbour / Getty Images
By Darlene Superville, Associated Press
WASHINGTON — President Barack Obama signed into law Thursday measures to give the public greater access to government documents and records under the nearly half-century-old Freedom of Information Act.
The new law will require federal agencies to consider releasing records under a "presumption of openness" standard, instead of presuming that the information is secret. Supporters say the shift will make it harder for agencies to withhold information.
The law also cuts the number of exemptions agencies may use to block the release of requested information.
A website will be created to streamline and centralize information requests to any agency. Agencies currently handle information requests in different ways. The White House said in a fact sheet released Thursday that the website, foia.gov, would be created sometime next year.
The law also places a 25-year sunset on the government's ability to withhold documents that shed light on how the government makes decisions. Before the new law, many documents related to decision-making could be kept from the public forever.
It also requires agencies to proactively disclose documents that are likely to be of interest to the public to make more government documents available outside the FOIA request process.
Before he signed Senate bill S. 337 during a brief Oval Office ceremony, Obama said it would make permanent some of the changes the administration already has made to make government more open and responsive.
"But I know that people haven't always been satisfied with the speed with which they're getting responses and requests," Obama said. "Hopefully, this is going to help and be an important initiative for us to continue on the reform path."
The legislation was sponsored by Sen. John Cornyn (R-Texas) and Sen. Patrick Leahy (D-Vermont).
The Freedom of Information Act became law on July 4, 1966.
To Learn More:
Obama Administration Sets Record for Denying Freedom of Information Requests (by Danny Biederman and Noel Brinkerhoff, AllGov)
48 Years after Creation of Freedom of Information Act, State Dept., Defense Dept. and VA Get Failing Grades (by Noel Brinkerhoff, AllGov)
The Oldest Unanswered Freedom of Information Act Requests (by Noel Brinkerhoff and David Wallechinsky, AllGov)