Accusations of Sanctioned Evidence Destruction Heat Up at Guantanamo Hearing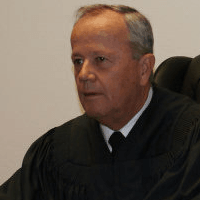 Col. James Pohl
By Britain Eakin, Courthouse News Service
GUANTANAMO BAY NAVAL BASE, Cuba (CN) — At this week's hearing for an accused senior official of al-Qaida, unusual military commission procedures on full display underscored challenges that have plagued the tribunals since their inception.
First, defense attorneys for Abd al-Hadi al-Iraqi stunned the court with the claim that their client's real name is Nashwan al-Tamir. Then, the judge cleared the path for a process usually reserved for assessing bias of potential jurors.
Al-Hadi's new lead defense attorney spoke to reporters about the permission he received to question Navy Capt. Judge J.K. Waits.
"In the almost 50 years I have been practicing law, I have never examined a judge," McKool Smith's Brent Rushforth said at the hearing. "So I guess if you do this long enough, there's always a first."
Though U.S. Army Brig. Gen. Mark Martins conceded Tuesday that judges have discretion to permit voir dire, he had told reporters the day before that he did not think Waits would permit it.
Voir dire began right away during Tuesday's hearing with Rushforth questioning Waits about his impartiality.
Rushforth also brought up a recent New York Times report on allegations that Judge Col. James L. Pohl permitted the destruction of evidence in the 9/11 case.
When the attorney asked whether any of that evidence involved his client, Waits said he was unaware of the article.
He said if Pohl had authorized the destruction of evidence, he would not know whether any of it pertained to al-Hadi's case.
Waits also said he follows the rules.
"I am keenly aware of my role as the last sentinel in protecting the commission from unlawful influence," the judge said.
Rushforth told reporters Wednesday that the defense team believes evidence was destroyed.
The defense team has an idea of what it might be, Rushforth said, but he declined to specify, saying only that it "may have a direct bearing on our case."
Commander Gary Ross, a spokesman for the Department of Defense, had no comment on the destruction-of-evidence allegations. "It would not be appropriate for me to comment on a filing that has not been submitted to the commission," Ross said in an email Friday. "Once any filing is properly submitted to the commission, the military judge will make the final decision in the matter."
Notably, military commissions do not have to follow evidence rules that would apply in criminal prosecutions in U.S. district courts. The 1963 Supreme Court ruling Brady v. Maryland requires prosecutors and the government to disclose exculpatory material, known as Brady evidence, that is favorable to the accused.
Army Maj. Wendall Hall noted that the Classified Information Procedures Act (pdf) does not allow evidence destruction, but that the Military Commissions Act (pdf) adds the word "delete," without defining it.
"What they're authorized to do under the Military Commissions Act is a problem," Hall said.
Does it mean delete, or does it mean physical destruction? The defense team does not know. "If you're asking questions about the definition, there's already an issue," Hall said.
Guantanamo judges are allowed to review classified evidence and give the defense redacted versions, substitutions or summaries. The government has long said that the original documents have been preserved, and that any deleted information is deleted only from the summaries and substitutions.
The defense team expressed some doubt about this, and Rushforth questioned Waits during the hearing about his ex parte review of classified information, which excludes the defense.
He inquired about the number of pages of classified documents they have looked at. Waits said they had reviewed about 40 binders.
"Big, fat binders?" Rushforth asked, before the prosecution interrupted him.
"The rules for court-martial do allow ex parte hearings with respect to other information regarding discovery, as does Rule 16 of the Federal Rules of Criminal Procedure," said federal prosecutor Felice Viti.
"Your Honor, to me it's entirely new that a judge meets with the prosecution ex parte and agrees to do stuff to documents," Rushforth said. "I think it potentially - whether it's in accordance with the rules or not, potentially does reflect prejudice," he added.
His comments underscored the lack of procedural protections for Guantanamo detainees under the military commissions system, which have long been criticized.
And he was not alone.
"For the record," Waits said, "it's odd to me, too."
"Until I became a commissions judge, I never had an ex parte hearing with counsel in any court-martial," Waits added.
Even assuming that the government is not destroying original classified documents, Army Maj. Robert Kincaid said during a meeting with reporters on Wednesday that the defense team still needs to see the original documents from the original classification authorities. That is because classified evidence can go through multiple levels of redaction by multiple agencies before it even reaches the prosecution.
"When I get a document that has been redacted, summarized, cleansed or deleted by at least three or four different people at three or four different stages, so that really the only person who knows what was in the entire original document is the OCA ... it is impossible for me to meet the Supreme Court's burden to show that a certain remedy takes place," he said, abbreviating original classification authorities.
Without knowing what the original documents contain, defense attorneys are left guessing about what evidence they should ask to suppress, Kincaid said. That could include any statements obtained through torture or enhanced interrogation techniques, which should be inadmissible.
So the defense team is left with a gaping, black hole.
In the normal court-martial process, there's an opportunity for the defense to have at least some viewing of classified evidence and argue on its admissibility. "This procedure completely removes that procedural mechanism," said Navy Lt. Cmdr. Keith B. Lofland. "There's no mechanism for us to even know intelligently what we're fighting about," he continued.
"If evidence is being substituted, we don't know how accurate the substitution is," Kincaid added. Even though this is the military commission judge's job, "it's arguably unconstitutional," Kincaid said.
Lofland said the defense has 300 to 400 pages of summaries of statements from "whoever Hadi al-Iraqi is," and that they only indicate that he was under custodial interrogation, sometime in late 2006 or early 2007.
"That is about the extent of any amplifying information that the summary contains regarding the circumstances of the interrogation," Lofland said. Notably absent is whether al-Hadi was in U.S. custody when the statements were elicited, who performed the interrogation, who was present, and the condition of whoever was giving the statement, he said.
The defense cannot challenge the validity of the statements or due-process issues with such little information, the defense team said, noting that they have made discovery requests for the original statements.
According to al-Hadi's defense team, those requests remain unfulfilled.
To Learn More:
Guantánamo Defense Lawyers Ask for Access to 14,000 CIA Photos of Secret Prisons (by Danny Biederman and Noel Brinkerhoff, AllGov)
Appeals Court Rules that Circumstantial Evidence is Enough to Keep a Prisoner at Guantánamo (by Noel Brinkerhoff and David Wallechinsky, AllGov)
7 Years of Secret Court Proceedings: Why is Federal Judge Stalling Justice? (by Noel Brinkerhoff and Steve Straehley, AllGov)
9/11 Suspects Can't Mention being Tortured during Trial Testimony because Their Torture is Classified (by Matt Bewig, AllGov)