Marijuana Use and Disorders Doubled in a Decade
Wednesday, November 18, 2015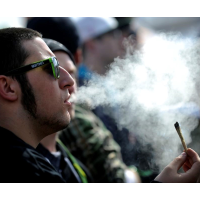 (photo: Seth McConnell, Denver Post via Getty Images)
Use of marijuana by Americans has more than doubled in the last decade, and disorders associated with the drug have shown a similar increase, a new study shows.
Rates of marijuana use went from 4.1% in 2001 to 9.5% in 2014, according to researchers who published their findings in JAMA Psychiatry and in Medscape Medical News.
Pot use among African Americans nearly tripled, from 4.7% to 12.7%. Other noticeable jumps occurred among women (from 2.6% to 6.9%), Hispanic Americans (3.3% to 8.4%), and older people (.04% to 1.3%).
Disorders associated with marijuana use, including addiction, car accidents and emergency room visits, also went up, from 1.5% to 2.9%.
"Among marijuana users, however, that figure declined from 35.6% to 30.6%," Tickle the Wire reported. "The difference lies in the increased number of users in the general population as more states legalize its use in one way or another and more people consider its use as having no risks. Currently 23 states authorize use for medical purposes and four for recreational use."
Young users were a particular concern of researchers. "When examined by age, young adults were at highest risk for marijuana use disorder in both surveys" according to the study. "Clearly, concerns about this age group continue, with prevention and intervention efforts for this group critically needed."
The researchers also found nearly three of 10 marijuana users—6.8 million people—manifested a marijuana use disorder in 2012-2013.
-Noel Brinkerhoff
To Learn More:
Marijuana Use and Disorders Double (by Ross Parker, Tickle the Wire)
Marijuana Use Doubles in U.S., But So Do Problems (by Maggie Fox, NBC News)
Prevalence of Marijuana Use Disorders in the United States Between 2001-2002 and 2012-2013 (by Deborah S. Hasin, PhD, Tulshi D. Saha, PhD, Bradley T. Kerridge, PhD, Risë B. Goldstein, PhD, MPH, S. Patricia Chou, PhD, Haitao Zhang, PhD, Jeesun Jung, PhD, Roger P. Pickering, MS, W. June Ruan, Sharon M. Smith, PhD, Boji Huang, MD, PhD, Bridget F. Grant, PhD, Journal of the American Medical Association) (abstract)
For the First Time, Marijuana Use Eclipses Tobacco Smoking among Nation's College Students (by Noel Brinkerhoff, AllGov)
U.S. Government Confirms that More High School Students Smoke Marijuana than Tobacco (by Matt Bewig, AllGov)