For the First Time, Marijuana Use Eclipses Tobacco Smoking among Nation's College Students
Thursday, September 03, 2015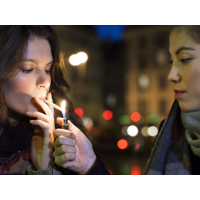 (photo: Brennan Linsley, AP)
Smoking marijuana has become more popular among college students than cigarettes, marking a first in the U.S., according to a study.
The University of Michigan's annual "Monitoring the Future" study (pdf) says just less than 6% of full-time college students used pot either every day or at least 20 times in the previous 30 days. That rate was higher than the 5% of respondents who claimed to be heavy cigarette smokers. The study also found 21% college students had used marijuana at least once during the previous month, and 34% said they had used it in the past year.
Lead investigator Lloyd Johnston told the Associated Press that the survey indicates teenagers and young adults now believe smoking marijuana is less of a health risk than smoking tobacco.
About 15 years ago, nearly one in five college students said they smoked cigarettes daily.
-Noel Brinkerhoff
To Learn More:
Study: Pot More a Habit for College Students than Cigarettes (Associated Press)
For The First Time Ever, More College Students Smoke Pot Than Cigarettes (by Sam P.K. Collins, ThinkProgress)
2014 Overview: Key Findings on Adolescent Drug Use (by Lloyd D. Johnston, Patrick M. O'Malley, Richard A. Miech, Jerald G. Bachman and John E. Schulenberg, University of Michigan Institute for Social Research) (pdf)
U.S. Government Confirms that More High School Students Smoke Marijuana than Tobacco (by Matt Bewig, AllGov)
More Teens Smoke Marijuana than Tobacco (by Noel Brinkerhoff, AllGov)