Red Cross Accuses U.S.-Backed Saudis of Deliberately Attacking Health Care Facilities in Yemen
Monday, November 16, 2015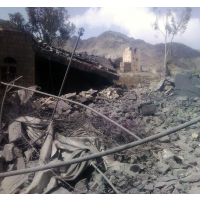 Remains of a Yemeni hospital following Saudi airstrike (AP photo)
The International Committee of the Red Cross (ICRC) has called for the end of bombing hospitals in war-torn Yemen, accusing U.S.-backed Saudi forces of carrying out the attacks.
The ICRC says "close to a hundred" hospital attacks have occurred since March, with the latest in the city of Taiz. Al-Thawra hospital, which has cared for about 50 injured people every day, was shelled several times on November 8. Before that, a Doctors Without Borders hospital in Haydan district of Saada was attacked on October 26.
"The neutrality of health care facilities and staff is not being respected. Health facilities are deliberately attacked and surgical and medical supplies are also being blocked from reaching hospitals in areas under siege," Kedir Awol Omar, deputy head of the ICRC delegation in Yemen, said.
Officials in Saudi Arabia have not addressed the most recent bombing, according to Common Dreams, but have denied being aware that the October airstrikes in Haydan targeted a clinic.
"Saudi authorities are denying the evident truth of having destroyed a hospital," Laurent Sury, head of Doctors Without Borders emergency operations, said. "This is an alarming sign for the Yemeni people and for those trying to assist them. How are we to draw lessons from what happened when all we face are denials? How can we continue to work without any form of commitment that civilian structures will be spared?"
Amnesty International has criticized the U.S. and other states for fueling the conflict while doing little to stop human rights violations.
"The U.S.A. and other states exporting weapons to any of the parties to the Yemen conflict have a responsibility to ensure that the arms transfers they authorize are not facilitating serious violations of international humanitarian law," Donatella Rovera, Amnesty's senior crisis response adviser, said. "Lack of accountability has contributed to the worsening crisis and unless perpetrators believe they will be brought to justice for their crimes, civilians will continue to suffer the consequences."
-Noel Brinkerhoff
To Learn More:
Yemen: Attacks on Health Care Facilities Must Stop (International Committee of the Red Cross)
Saudi-Led Coalition 'Deliberately' Targeting Hospitals in Yemen: ICRC (by Nadia Prupis, Common Dreams)
U.S. "Concern" Over Yemen Crisis Belies Its Military Support of Saudi Coalition Bombing (by Noel Brinkerhoff, AllGov)
Obama Third President in a Row to Oversee Attack on a Hospital (by Steve Straehley, AllGov)