Obama Third President in a Row to Oversee Attack on a Hospital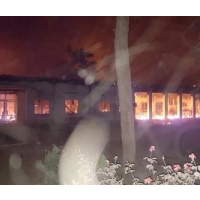 Afghan hospital in flames (photo: Médecins Sans Frontières)
When the Médecins Sans Frontières hospital in Kunduz, Afghanistan was attacked on Oct. 3 by a U.S. AC-130 gunship, it was not a unique event. Hospitals have come under fire during conflicts presided over by the two previous presidents as well as Barack Obama.
The Geneva Convention, to which the United States is a signatory, prohibits the targeting of hospitals. "Civilian hospitals organized to give care to the wounded and sick, the infirm and maternity cases, may in no circumstances be the object of attack but shall at all times be respected and protected by the Parties to the conflict," according to the treaty.
After the Kunduz attack, U.S. officials at first said Afghan forces had been taking fire from the building. Obama later apologized for the attack in which 22 patients and staff members were killed. Médecins Sans Frontières has called the attack a war crime and wants an independent investigation.
Hospitals also came under fire during the Iraq War under the George W. Bush administration. U.S. planes bombed a Baghdad maternity hospital in 2003, according to ThinkProgress. Several people were killed in the attack and 27 injured.
Nor were hospitals safe under Bill Clinton's watch. NATO forces bombed a hospital in Belgrade, Serbia, in 1999, killing four. Technical problems were blamed for the attack. Also that year in Nis, Serbia, NATO dropped cluster bombs on an outdoor market and neighboring hospital, killing three in the hospital.
In 1993, U.S. and Turkish forces bombed the largest hospital in Mogadishu, Somalia, where Médecins Sans Frontières was working. Three patients were killed. The United Nations said the hospital was attacked because it was being used as a hideout by forces loyal to Gen. Mohammad Farah Aidid, the Somali military commander who had taken over the government in a coup.
-Steve Straehley
To Learn More:
This Isn't the First Time the U.S. Has Bombed a Hospital (by Beenish Ahmed, ThinkProgress)
A Short History of U.S. Bombing of Civilian Facilities (by Jon Schwarz, The Intercept)
International Aid Group Blasts Pentagon for Shifting Stand on Afghan Hospital Air Assault (by Noel Brinkerhoff and Steve Straehley, AllGov)