14-Year-Old Builds a Clock, Brings it School, Gets Arrested … Then on to the White House
Friday, September 18, 2015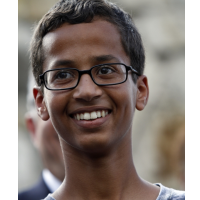 Ahmed Mohamed (photo: Ben Torres, Getty Images)
Ahmed Mohamed went through a rollercoaster of emotion this week as he went from being arrested for building a clock to getting invited to the White House to show off his skills.
The 14-year-old resident of Irving, Texas, became a national focus after his arrest was reported and went viral. He went to school on Monday with his homemade clock, contained in a briefcase, to show it off to an engineering teacher. But after the clocked beeped in his English class, school officials called police thinking he actually had a bomb. His invention was confiscated and he was taken to a juvenile detention center where he was fingerprinted and a mug shot was taken. He was also suspended from school for three days.
Critics pointed to Mohamed's religion as reason why he found himself in handcuffs for a while, saying had he been white, authorities would have reacted differently.
"Ahmed's arrest is a logical conclusion to Islamophobia in Irving and it's deplorable," said Carol Donovan, chairwoman of the Dallas County Democratic Party. Other state Democrats pointed to alleged anti-Muslim views of Irving officials, including Irving mayor Beth Van Duyne, a critic of a local Muslim mediation group.
News of his brief arrest caught the attention of everyone from Mark Zuckerberg to President Barack Obama, who invited Mohamed to the White House to celebrate his engineering skills.
"Cool clock, Ahmed," Obama said on Twitter. "Want to bring it to the White House? We should inspire more kids like you to like science. It's what makes America great."
White House press secretary Josh Earnest told the media: "This episode is a good illustration of how pernicious stereotypes can prevent even good-hearted people who have dedicated their lives to educating young people from doing the good work that they set out to do."
Ahmed's father, Mohamed El Hassan, said his son is always building and fixing things. The freshman has repaired his dad's car, phone, electrical wiring and computer. He's also built a go-kart.
At a news conference outside his home, Ahmed offered a Muslim greeting for peace—"as-salaamu alaykum"—and identified himself as "the person who built a clock and got in a lot of trouble for it."
-Noel Brinkerhoff
To Learn More:
Handcuffed for Making Clock, Ahmed Mohamed, 14, Wins Time with Obama (by Manny Fernandez and Christine Hauser, New York Times)
Ahmed Mohamed Swept Up, 'Hoax Bomb' Charges Swept Away as Irving Teen's Story Floods Social Media (by Avi Selk, Dallas Morning News)
Is It Really Necessary to Automatically Shackle Juveniles for Court Appearances…and Keep them in Solitary Confinement? (by Noel Brinkerhoff, AllGov)
26 States Still Punish Children for Non-Violent Offenses that would not be Violations if they were Adults (by Noel Brinkerhoff, AllGov)