26 States Still Punish Children for Non-Violent Offenses that would not be Violations if they were Adults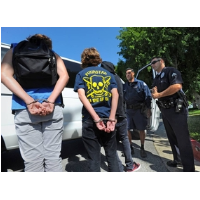 Truant students detained by the Los Angeles Police (photo: Brad Graverson, Torrance Daily Breeze)
The criminal justice system in 26 states continues to punish children for nonviolent offenses that adults never have to worry about.
Youths in these states can be detained for repeated "status offenses," like skipping school, running away from home or possession of alcohol, despite the passage of a federal law 40 years ago aimed at keeping kids out of jails.
In 1974, Congress passed the Juvenile Justice and Delinquency Prevention Act (pdf) (JJDPA), which forbade states that received federal juvenile justice funds from incarcerating minors who committed what are known as "status offenses," a violation that applies only to minors.
However, in 1980 Congress amended the act to allow exceptions if a judge determines that jailing is a solution of "last resort." But in many jurisdictions, these exceptions are actually used as an excuse to incarcerate young people without losing federal funding.
A new report (Status Offenses: A National Survey [pdf]) by the Coalition for Juvenile Justice says most cases of children being detained for status offenses occurred in only a handful of states. Washington led the nation in use of the valid court order exceptions, with 2,705 cases, during a year-long period approximately between 2010 and 2012, according to the group. Other top states were Kentucky (1,048), Arkansas (747) and Colorado (356).
Melissa Sickmund, director of the National Center for Juvenile Justice, said that putting juveniles behind bars is a mistake. "If you're detaining the kid — unless they are really a threat to the community — it may be causing more harm than good, it may be putting them in the presence of other bad actors who are worse than them and they just learn bad stuff," she told the Juvenile Justice Information Exchange. "We could be traumatizing them, and it doesn't help and it's expensive."
It is anticipated that a new JJDPA reauthorization bill will be introduced during the current session of Congress that would phase out the 1980 exceptions amendment.
-Noel Brinkerhoff
To Learn More:
New Report Finds Incarceration for 'Status Offenses' Still Widespread (by Gary Gately, Juvenile Justice Information Exchange)
Status Offenses: A National Survey (Coalition for Juvenile Justice) (pdf)
Juvenile Offenders often Receive less Justice than Adults (by Steve Straehley and David Wallechinsky, AllGov)