Cat Food Buyers Sue Nestlé over Possible Use of Slave Labor to Produce Fancy Feast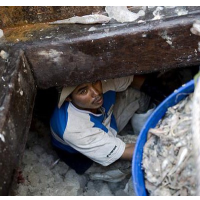 Slave laborer in the hold of a fishing boat (photo: Borja Sanchez-Trillo, Getty Images)
A class action lawsuit brought by plaintiffs who buy cat food names Nestlé in allegations that the company knowingly buys fish products for its Fancy Feast line that are produced using slave labor overseas.
The class claims Nestlé has tried to hide its involvement with human rights violations from the public. Nestlé reportedly contracts with a Thai company, Thai Union Frozen Products PCL, to import more than 28 million pounds of seafood-based pet food, some of which is obtained through slave labor.
"By hiding this from public view, Nestlé has effectively tricked millions of consumers into supporting and encouraging slave labor on floating prisons," Steve Berman, managing partner of Hagens Berman, which represents the class, said in a statement. "It's a fact that the thousands of purchasers of its top-selling pet food products would not have bought this brand had they known the truth—that hundreds of individuals are enslaved, beaten or even murdered in the production of its pet food."
Thai Union owns a cannery, the Songkla Canning Public Company, which gets forage fish from boats that use slave laborers, many of whom come from Cambodia and Myanmar.
Interviews with these fishermen revealed horror stories of sick crew members being dumped overboard and defiant ones being killed, sometimes by having their heads cut off. Many workers are beaten for minor "offenses," such placing a fish in the wrong bucket or not working fast enough. Still others are "sealed for days below deck in a dark, fetid fishing hold," Ian Urbina of The New York Times reported last month.
Songkla Canning has also been on the radar of the Criminal Investigations division of the U.S. Food and Drug Administration, whose 2010 on-site inspections of Songkla's Thailand facilities found unsanitary conditions that produced "adulterated" seafood that is potentially "injurious to health."
-Noel Brinkerhoff
To Learn More:
Hagens Berman: Class Action Filed against Nestlé for Slave Labor, Human Trafficking Used to Produce Top-Selling Pet Food (Hagens Berman Sobol Shapiro LLP)
Melanie Barber v. Nestle USA (U.S. District Court, Central California) (pdf)
Pet Food Sold in U.S. is Produced by Slave Labor in Thailand (by Noel Brinkerhoff and Danny Biederman, AllGov)
'Sea Slaves': The Human Misery That Feeds Pets and Livestock (by Ian Urbina, New York Times)