16 States Looking for a Way Out of the Clean Power Plan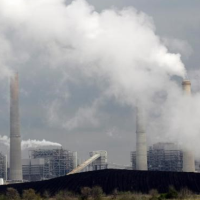 (AP Photo)
Sixteen states that rely heavily on coal-generated electricity have asked the Environmental Protection Agency (EPA) to delay its Clean Power Plan, which seeks to reduce carbon emissions by 30%.
The plan requires the states to submit plans by September 2018 that spell out how they will begin cutting emissions in their jurisdictions by 2022.
West Virginia's attorney general sent a letter (pdf) to EPA Administrator Gina McCarthy asking for a stay. The letter was written on behalf of West Virginia, which relies heavily on the coal industry for its economy, and Alabama, Arizona, Arkansas, Indiana, Kansas, Kentucky, Louisiana, Nebraska, Ohio, Oklahoma, South Carolina, South Dakota, Utah, Wisconsin, and Wyoming.
"Many of these states receive more than 90 percent of their electricity from coal, the most carbon-intensive source of electricity generation," Samantha Page of ThinkProgress reported.
West Virginia Attorney General Patrick Morrisey said in a statement that the EPA plan represented an "illegal power grab by the Obama administration."
"These regulations, if allowed to proceed, will do serious harm to West Virginia and the U.S. economy, and that is why we are taking quick action to bring this process to a halt," Morrisey said.
The plan gives states four options on how to reduce emissions. If the states fail to take action, however, the EPA can impose solutions on the states that might result in higher electric rates than if the states had acted on their own using other methods, according to Naveena Sadasivam of InsideClimate News.
Fifteen of the 16 states (minus Arizona) had previously sued the EPA in federal court to stop the
Clean Power Plan from being implemented. The court, however, allowed the regulation to go into effect.
-Noel Brinkerhoff
To Learn More:
16 States Think the EPA's Emissions Rule Isn't Legal and They Shouldn't Have to Comply (by Samantha Page, ThinkProgress)
Why States Rejecting EPA's Clean Power Plan Could Face Bigger Rate Hikes (by Naveena Sadasivam, InsideClimate News)
Letter to Gina McCarthy, EPA (State of West Virginia on behalf of 16 states) (pdf)
The Ridiculous Responses Climate Deniers Had to Obama's Climate Plan (by Samantha Page, ThinkProgress)
"We'll be back!" Says Coal Industry after Court Shoots Down its Lawsuit against EPA Clean Power Proposal (by Noel Brinkerhoff and Steve Straehley, AllGov)