"We'll be back!" Says Coal Industry after Court Shoots Down its Lawsuit against EPA Clean Power Proposal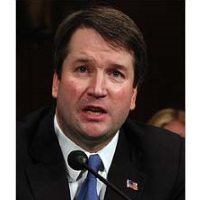 Judge Brett Kavanaugh (photo: Dennis Cook, AP)
Having lost the first round, the coal industry has adopted the "if at first you don't succeed" approach in its challenge of Environmental Protection Agency's (EPA) climate change policy.
Coal companies and officials from 14 states filed a lawsuit to stop the EPA from adopting its plan to limit the production of greenhouse gases from power plants. The litigation was filed while the proposed rule was—and still is—only in draft form. The agency won't formally release it until August, which made the legal challenge premature in the eyes of the U.S. Court of Appeals for the District of Columbia, whose three-judge panel unanimously rejected the complaint.
"Petitioners are champing at the bit to challenge EPA's anticipated rule restricting carbon dioxide emissions from existing power plants," Judge Brett Kavanaugh wrote in the opinion (pdf). "But EPA has not yet issued a final rule. It has issued only a proposed rule. Petitioners nonetheless ask the court to jump into the fray now. They want us to do something that they candidly acknowledge we have never done before: review the legality of a proposed rule."
The ruling did not address the legal merits of the new rules, which experts say rely on a "novel and even audacious legal interpretation of the 1970 Clean Air Act," according to The New York Times.
The regulations, if enacted, would tell each state how much greenhouse gas emissions it can release, but would leave it up to each state to decide how to meet its goal.
Coal companies object to the plan, arguing it will force the closure of hundreds of power plants, stop construction of new ones and curb coal production.
Despite the legal setback the industry plans to file more lawsuits intended to kill the new rules once they are adopted by the EPA and the matter will probably not be settled until it reaches the Supreme Court.
"We are obviously disappointed with the court's ruling today, but we still think we have a compelling case that the rule is unlawful," Patrick Morrisey, the Republican attorney general of West Virginia who led oral arguments against the rule, said according to the Times. "As the court recognized, the rule will be final very soon, and we look forward to continuing to press the issue. We will continue to take every available step to protect our citizens and the State of West Virginia from this unlawful power grab by Washington bureaucrats."
One thing the final rule won't do is cost jobs. The Economic Policy Institute, a non-partisan think tank, says the rule will create 100,000 more jobs than it costs, according to ThinkProgress.
-Noel Brinkerhoff, Steve Straehley
To Learn More:
Court Gives Obama a Climate Change Win (by Coral Davenport, New York Times)
Appeals Court Dismisses Challenge to EPA's Climate Rule (by Amy Harder, Wall Street Journal)
Federal Judge On Stopping EPA Rule: 'Why Would We Do That?' (by Samantha Page, ThinkProgress)
New Report Shows EPA's Proposed Carbon Regulations Will Create Tens of Thousands of Jobs (by Samantha Page, ThinkProgress)
A Comprehensive Analysis of the Employment Impacts of the EPA's Proposed Clean Power Plan (by Josh Bivens, Economic Policy Institute)
Clean Power Plan Proposed Rule (Environmental Protection Agency)
State of West Virginia, et al. v. Environmental Protection Agency (U.S. Court of Appeals for the District of Columbia) (pdf)