More Problems for the Trillion-Dollar F-35: It's not Good at Close Combat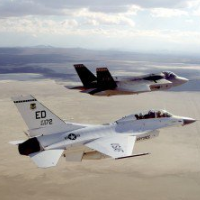 F-16 (foreground) and F-35 Credit: Breaking Defense
The U.S. military's advanced fighter plane, the F-35, isn't very good at fighting.
A test pilot who flew an F-35 said 17 dogfights demonstrated that the plane could not compete with the F-16, which was introduced in the 1970s and is the plane the F-35 is supposed to replace.
The F-35 program, which will cost more than $1 trillion if fully produced, has had other serious problems exposed: vulnerability to lightning strikes, and an inaccurate and unstable software system, the Project on Government Oversight reported.
"Moreover, the F-35's unprecedented complexity and the corresponding unreliability and significant maintenance burdens prevent it from flying often enough to adequately train pilots, turning the plane into a 'hangar queen,'" POGO's Iulia Gheorghiu wrote.
"The plane will have limited operational availability for flight training because maintenance crews will find it difficult to keep up with the inevitable mechanical failures," she added. She reported that the F-35 has flown only 55% of its planned flying hours because maintenance crews can't repair it fast enough.
Dan Grazier, the Jack Shanahan Fellow working with POGO's Straus Military Reform Project, said the "test report proves the problems with the F-35 program are fundamental and systemic. It's time to pull the brake before ramping up production to make sure taxpayers aren't paying more for less."
Supporters of the F-35 admit its dogfighting shortcomings but say the plane should be able to destroy enemy fighters before getting into dogfight range because of its stealth capabilities.
The F-35 has previously been found to be lacking in ground attack capability compared to the 1970s-era A-10. The Air Force is trying to get rid of the A-10 despite support for the older plane among pilots.
-Noel Brinkerhoff, Steve Straehley
To Learn More:
Read for Yourself — The F-35's Damning Dogfighting Report (by David Axe, War is Boring)
Congress, Pentagon Must Re-Evaluate F-35 in Light of Serious Deficiencies (by Iulia Gheorghiu, Project on Government Oversight)
F-16 Vs. F-35 In A Dogfight: JPO, Air Force Weigh In On Who's Best (by Colin Clark, Breaking Defense)
When F-35 Joint Strike Fighter Goes Operational this Summer, it won't Work any better than 40-Year-Old Thunderbolts (by Steve Straehley, AllGov)