When F-35 Joint Strike Fighter Goes Operational this Summer, it won't Work any better than 40-Year-Old Thunderbolts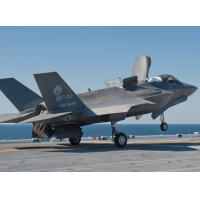 F-35B (photo: Lockheed Martin)
The money-suck known as the F-35 Joint Strike Fighter will go into service this summer with the Marine Corps with less ground attack capability than the 40-year-old plane it's meant to replace, Pentagon officials say.
The F-35 has cost nearly $400 billion since the beginning of the program in 2001 and is estimated to cost $1 trillion over its lifetime. However, it won't have night-vision capability, will be able to carry only two air-to-ground missiles and will be able to stay over a target area for 30 minutes maximum, Michael Gilmore, director of operational test and evaluation at the Defense Department, told the House Armed Services Committee on Tuesday.
"If F-35 aircraft are employed at night for combat, pilots will have no night vision capability available due to the restriction on using the current night vision camera," Gilmore said in written testimony to the committee. In contrast, the 1970s-era A-10 Thunderbolt, known as the Warthog, can remain over a battlefield for up to 90 minutes and augment its four air-to-ground missiles with fire from a cannon in its nose.
"This [F-35 variant] reminds me of something before the A-10, not something after the A-10," Rep. Martha McSally, (R-Arizona), a freshman lawmaker and former Warthog pilot, said according to Stars and Stripes.
As Congress decides whether to appropriate money to buy more F-35s from contractor Lockheed Martin, the Government Accountability Office (GAO) released a report (pdf) this month that outlines problems with the program. "[E]ngine reliability is poor and has a long way to go to meet program goals. With nearly 2 years and 40 percent of developmental testing to go, more technical problems are likely," the report said. It also outlined grounding of the F-35 fleet, the need for additional inspections and software failures.
Air Force brass have long coveted more F-35s, to the point of releasing misleading statistics on the A-10 and telling lower-level officers that talking about the Warthog to members of Congress is "treason."
How those new planes will be paid for is another question. The program will cost taxpayers from $12 billion to $15 billion a year through 2030. Yet the GAO report points out "It is unlikely that the program will be able to receive and sustain such a high and unprecedented level of funding over this extended period, especially with other significant fiscal demands weighing on the nation."
Despite the late date and billions flushed into the program, some are calling for the Pentagon to bail out of the F-35. "However, we are past that decision point," Rep. Loretta Sanchez (D-California) said. "We just need to make this program work."
-Steve Straehley
To Learn More:
First Version of F-35s Will Not Outdo A-10 in Battlefield Capabilities (by Travis J. Tritten, Stars and Stripes)
GAO Confirms Increased F-35 Production Is a Terrible Idea (by Mandy Smithberger, Project on Government Oversight)
F-35 Joint Strike Fighter: Assessment Needed to Address Affordability Challenges (pdf) (Government Accountability Office)
A Reminder: U.S. Pays One Quarter of Israel's Defense Budget (by Noel Brinkerhoff and Steve Straehley, AllGov)
Air Force Doctored Statistics about Friendly Fire and Civilian Deaths to Get Rid of A-10 Attack Jet (by Noel Brinkerhoff, AllGov)
Air Force General Says Talking to Congress about A-10 Attack Jet is Treason (by Steve Straehley, AllGov)
Trillion-Dollar F-35 Jet Fighter Has 13 Flaws (by Noel Brinkerhoff and David Wallechinsky, AllGov)