U.S. Government is Still Funding Dubious Abstinence-Only Sex Education Program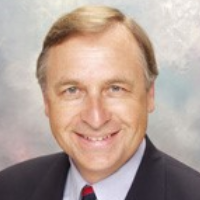 CTB President Bruce Cook
Despite evidence showing that such programs are ineffective, abstinence-only sex education programs continue to flourish, thanks to funding from conservative members of Congress.
Republicans last April slipped a provision into a Medicare bill that provided $50 million over two years for Title V programs, which provide matching grants for states to use abstinence-only-until-marriage curricula. Although that sounds like a big number, it's pocket change compared to the $1.7 billion that has been spent on the non-fact-based lessons since 1982. The latest round of taxpayer dollars will end up going to the growing number of companies publishing abstinence-only lesson plans, complete with endorsements from legitimate-sounding medical associations.
One of those companies is Choosing the Best (CTB), based in Georgia. According to an investigation by Erica Hellerstein at ThinkProgress, Choosing the Best materials are used in at least 15 states. Much of the CTB curriculum is focused on "fear and shame," according to Nora Gelperin, the director of sexuality education and training at Advocates for Youth. She told ThinkProgress that CTB's lesson plans are "definitely towards the end of one of the worst curricula I've seen, mostly because of its insidious message. They do a good job of covering up some of the most egregious elements of their curriculum and making it seem like a nice shiny package with a bow."
Programs such as CTB's often perpetuate dangerous gender stereotypes, in one instance saying: "'Occasional suggestions and assistance' from women 'may be alright, but too much of it will lessen a man's confidence or even turn him away from his princess.'"
The programs are endorsed by organizations such as Medical Institute for Sexual Health and the American College of Pediatricians. Those sound as though they're regular professional organizations, but in fact are conservative-led groups pushing abstinence-only education. The American College of Pediatricians, for instance, has also come out opposing same-sex marriage and advocates "change therapy" to help homosexuals "develop their heterosexual potential." It also claims, despite overwhelming evidence to the contrary, that women who have abortions are more likely to develop breast cancer.
Independent studies have shown time and again that abstinence-only education is not effective in preventing pregnancies or sexually-transmitted diseases. ThinkProgress reported about a 2009 study that showed that those teens who took "virginity pledges" were as likely as nonpledgers to have premarital sex, but "less likely to protect themselves from pregnancy and disease before marriage." Studies submitted by CTB as proof their methodology is effective are found to be lacking in methodological quality and evidence of program effectiveness.
And it's not just that the programs are ineffective; they can actually hurt teens. "One of the things that is so glaring when you actually look at a lot of these curricula is that they seem to be completely ignoring the fact that there's a huge percentage of young people in the classroom who are already sexually active," Nicole Cushman, the executive director of Answer, a sexuality-education organization based at Rutgers University, told ThinkProgress. "Emphasizing that having sex before marriage leads to harmful mental health and social and psychological consequences is just not true. And it's also stigmatizing to young people who are already sexually active."
But mere facts can't hold a candle to political contributions. Former Rep. Phil Gingrey (R-Georgia) was quoted on the CTB website as saying "As a member of the U.S. House of Representatives committed to a high standard of personal integrity, I am pleased to enthusiastically endorse and support a school-based sexual abstinence instructional program that is getting tremendous results … It could not have come at a more critical time in our society."
Gingrey received thousands of dollars in campaign contributions from CTB president Bruce Cook. Cook also got cozy with former Georgia Gov. Sonny Perdue (R), to whom he made significant contributions and by whom he was appointed to serve on the board of the Georgia Department of Community Health.
-Steve Straehley
To Learn More:
This Is How We Are Spending Billions On The Sexual Mis-Education Of America's Youth (by Erica Hellerstein, ThinkProgress)
We've Been Here Before: Congress Quietly Increases Funding for Abstinence-Only Programs (by Nicole Cushman, Debra Hauser and Monica Rodriguez, RH Reality Check)
Congress Increases Grants for Abstinence-Only Programs (by Noel Brinkerhoff, AllGov)
Abstinence Education Funding is Back, Thanks to Health Reform Bill (by Noel Brinkerhoff, AllGov)