U.S. Diplomats will no Longer Stay at Waldorf-Astoria now that it's Owned by Chinese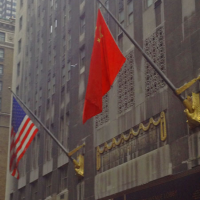 (photo: Waldorf-Astoria)
The State Department has made it official—U.S. diplomats in New York this fall for the annual meeting of the United Nations General Assembly will not be staying at the Waldorf Astoria hotel.
The department traditionally takes two secured floors at the Waldorf for the UN session. However, the department has been worried about security issues at the iconic hotel since it was purchased last year by the Chinese Anbang Insurance Group for $1.95 billion. Although the deal called for Hilton to continue managing the property for 100 years, the Chinese government's propensity for electronic eavesdropping concerned U.S. officials, who may be heeding the advice they give for travelers going to China:
"Hotel rooms (including meeting rooms), offices, cars, taxis, telephones, Internet usage and fax machines may be monitored onsite or remotely, and personal possessions in hotel rooms, including computers, may be searched without your consent or knowledge," according to the State Department.
"Business travelers should be particularly mindful that trade secrets, negotiating positions and other business-sensitive information may be taken and shared with local interests."
So instead of the tony Waldorf, U.S. diplomats, and possibly President Barack Obama, will stay at the New York Palace Hotel.
So far there has been no word on whether U.S. Ambassador to the United Nations Samantha Power and her family will continue to live at the Waldorf, where the State Department has maintained a residence there for the UN Ambassador for more than 50 years. The lease is up at the end of this year and Power may find herself in new digs.
If Power does move to the Palace as well, it's possible its mojo might rub off on the U.S. negotiating style. The hotel was previously known as the Helmsley Palace. If that sounds familiar, it's because it's where heiress Leona Helmsley practiced her "Queen of Mean" management techniques.
-Steve Straehley
To Learn More:
U.S. to Abandon Chinese-Owned Waldorf at UN General Assembly (by Matthew Lee, Associated Press)
Officials Raise Spying Concerns After Chinese Company Plans Renovation At Waldorf Astoria (CBS New York)
Is Chinese Takeover of Waldorf Astoria Hotel a Threat to National Security? (by Steve Straehley, AllGov)