Is Chinese Takeover of Waldorf Astoria Hotel a Threat to National Security?
Monday, November 24, 2014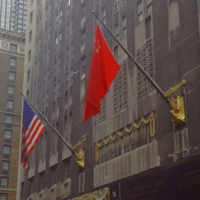 Chinese flag in front of Waldorf-Astoria (photo: Waldorf-Astoria)
U.S. government officials are a little worried that they might find a bug in the soup from room service at the renowned Waldorf-Astoria Hotel in New York. Or in the walls, or in the air conditioning ducts.
That's the concern now that an agreement has been reached for the hotel to be sold to a Chinese buyer. The Waldorf-Astoria, built in 1931, is the permanent home of the U.S. ambassador to the United Nations and hosts presidents and other top officials when they're in New York. Now that it's being sold by Hilton Worldwide Holdings for $1.95 billion to China's Anbang Insurance Group, which reportedly has ties to the Communist party, U.S. officials fear the new owners could use their new property to gain intelligence information from their guests.
"We are currently in the process of reviewing the details of the sale and the company's long-term plans for the facility," Kurtis Cooper, a spokesman for the U.S. mission to the U.N., told the Associated Press last month. "The State Department takes seriously the security of its personnel, their work spaces and official residences. We are constantly evaluating our security protocols and standard operating procedures to ensure the safety and security of our information and personnel."
According to some reports, it wouldn't be the first time there'd been surveillance on Waldorf guests. "There was virtually hardly a room, a suite or a restaurant table or a ballroom that wasn't wired," Edward Moles, a public affairs director for the hotel during the 1970s and 1980s, told Bloomberg. "I assumed that it was the U.S. government, some aspect of our government, that put them in and controlled them. At least I hoped so."
As well as being the home of U.S. Ambassador Samantha Power, the State Department annually rents two floors of the hotel during the U.N. General Assembly.
For its part, Hilton, which will continue to manage the hotel under a 100-year contract, says it's "confident there are no national security issues as a result of this transaction," according to a spokesman. However, a major renovation of the Waldorf is planned, and some are concerned that would be a chance to install electronic surveillance devices throughout the building.
So if the sale goes through, the State Department might have to find a new place for officials to stay in New York. No word on if they'll demand free wi-fi and a hot breakfast.
-Steve Straehley
To Learn More:
Chinese Spying at the Waldorf? Let's Start With the Spooks Closer to Home (by David McLaughlin and Sangwon Yoon, Bloomberg)
State Department Concerned About Chinese Spying At Waldorf Astoria After Sale To Insurance Company With Possible Communist Party Ties (by Dan Friedman, New York Daily News)
Is China "Buying a Part of America's Soul" with the Waldorf Astoria? (by Ana Swanson, Forbes)