U.S. Repatriates U.S.-Born Orphans to Brazil (Note: They're Boa Constrictors)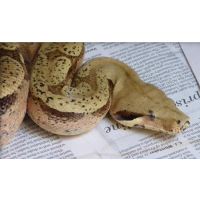 Snake recovered from Jeremy Stone. Credit: Department of Justice
The U.S. government sent seven orphans born in the United States to Brazil, their mother's homeland, but drew no criticism from immigration rights advocates. That might be because the seven are snakes, offspring of a rare boa constrictor.
Nine years ago, a white boa constrictor named Lucy or Diamond Princess was smuggled from Brazil's Niterói Zoo, which rescues and rehabilitates injured wild animals, by Jeremy Stone, a collector, breeder and seller of reptiles. Lucy wound up in Utah, where she had eight offspring while kept by Stone. She later died, authorities discovered.
Stone was able to sell Lucy's offspring for tens of thousands of dollars. When Brazilian officials learned Stone was selling the snakes, they contacted the U.S. Department of Justice for help. The Federal Bureau of Investigation eventually seized eight snakes, while federal prosecutors charged (pdf) Stone with unlawfully transporting wildlife in the U.S. He pled guilty to the charge and agreed to forfeit the snakes, one of which died before they were sent to Brazil, and was put on probation. Stone's sister Keri was also named in the indictment.
"This case exhibited many of the hallmarks that make illegal wildlife trafficking a growing international scourge, including actors motivated by greed who illegally smuggled rare and precious wildlife across international boundaries," Assistant Attorney General Leslie Caldwell said in a statement. "The return of the precious snakes to Brazil brings to an end this years-long international saga, and serves as an example of our commitment to working with law enforcement partners in Brazil and elsewhere to combat transnational crime.
-Noel Brinkerhoff
To Learn More:
United States Repatriates Seven Boa Constrictors to Brazil (U.S. Department of Justice)
U.S. Repatriates Seven Boa Constrictors to Brazil (by Dan McCue, Courthouse News Service)
Offspring Of Snake Smuggled By Utah Reptile Collector Returned To Brazil (by Tom Harvey, Salt Lake Tribune)
United States v. Jeremy Stone and Keri Ann Stone (U.S. District Court, Utah)