Abortions Down Across U.S….Except in Michigan and Louisiana: Here's Why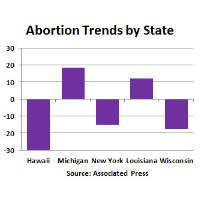 Graphic: Steve Straehley/AllGov
Nationwide, abortions are down 12% since 2010, but in Michigan and Louisiana, both states that have enacted abortion restrictions, the number of such procedures has increased significantly during the same period.
The increases—up 18.5% in Michigan and 12% in Louisiana—are at least partly because those states adjoin others where abortions are even more tightly restricted. "The increases were due in part to women coming from other states where new restrictions and clinic closures have sharply limited abortion access," the Associated Press' David Crary wrote. "Anti-abortion groups said many Ohio women were going to Michigan and many Texas women to Louisiana."
From 2013 to 2014, abortions for nonresidents of Michigan rose from 708 to 1,318 and in Louisiana, the increase in abortions for nonresidents leaped by more than 1,200 between 2010 and 2012.
But it wasn't just states with abortion restrictions where the numbers of those having the procedure fell. New York, which has few abortion restrictions, saw its numbers fall 15.2% and Hawaii's plummeted 29.9%.
Abortion rights advocates say the numbers show that sex education and contraception are the key to reducing the number of abortions. "Better access to birth control and sex education are the biggest factors in reducing unintended pregnancies," Cecile Richards, president of the Planned Parenthood Federation of America, told AP. "More restrictive abortion laws do not reduce the need for abortions."
-Noel Brinkerhoff, Steve Straehley
To Learn More:
AP Exclusive: Abortions Declining In Nearly All States (by David Crary, Associated Press)
Abortion Drop Coincides With Sex Education Changes; State Has High Rate Of Contraception Use (by Cathy Bussewitz, Associated Press)
Abortion Rate Lowest in 48 Years (by Noel Brinkerhoff, AllGov)