Abortion Rate Lowest in 48 Years
Tuesday, February 04, 2014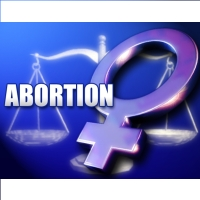 The rate that American women are having abortions has reached its lowest level since the U.S. Supreme Court legalized the procedure in the early 1970s.
Fewer than 17 abortions for every 1,000 women were recorded in 2011, the most recent year for which figures are available, according a paper (pdf) published by the Guttmacher Institute, which supports abortion rights.
That rate was only slightly higher than the one in 1973, when abortion became legal in the U.S.
The 2011 figure also represented a 13% decline from the rate in 2008.
The authors of the study said the struggling economy and new, more reliable kinds of birth control may have contributed to the decline. But they rejected any connection between the lower rate and the increase in abortion restrictions adopted by many states in recent years.
"We didn't find any clear associations between abortion restrictions and declines in abortion rates," Rachel K. Jones, a senior researcher at Guttmacher and lead researcher on the paper, told USA Today. "We saw drops in abortions in the states that had restrictions, but they were not substantially bigger than what we saw in other states."
Abortion opponents were delighted by the news, and insisted their efforts to curb access to the procedure played a role.
"We are extremely happy that the abortion numbers are going down and continue to be declining over the years," Carol Tobias, president of National Right to Life, told The Washington Post.
Anti-abortionists say laws requiring parental notification or consent for a minor to get an abortion were in effect long before 2011 and could have contributed to fewer females getting abortions.
The Guttmacher researchers dispute this view, explaining that their study of the abortion rate in states that did not enact such laws prior to 2011 revealed results consistent with the trend in other states. However, six states— Alaska, Maryland, Montana, New Hampshire, West Virginia and Wyoming—inexplicably showed either no change or an increase in their abortion rates.
-Noel Brinkerhoff
To Learn More:
Study: Abortion Rate at Lowest Point Since 1973 (by Sandhya Somashekhar, Washington Post)
Abortion Rate at Lowest Level Since 1973 (by Sharon Jayson, USA Today)
Abortion Incidence and Service Availability in the United States, 2011 (by Rachel K. Jones and Jenna Jerman, Guttmacher Institute) (pdf)
U.S. Birth and Abortion Rates Plunge to Record Lows (by Noel Brinkerhoff, AllGov)