Federal Judge Orders Investigation of Accusations that Pentagon Inspector General Destroyed Documents in Whistleblower Case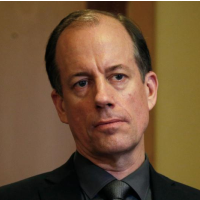 Thomas Drake (photo: Alexander Zemlianichenko, AP)
A federal judge is probing whether the Department of Defense's inspector general (IG) destroyed documents related to the case of Thomas Drake, a former National Security Agency official turned whistleblower.
Drake endured retaliation from the government and prosecution from the Obama administration for cooperating with other whistleblowers starting a dozen years ago regarding NSA surveillance programs. The Department of Justice tried to convict Drake of violating espionage laws while acting as a whistleblower, but the case fell apart and prosecutors had to settle for getting Drake to plead guilty to a misdemeanor charge.
During the trial, though, Drake's lawyers contended that the Pentagon's inspector general destroyed evidence related to the case. That prompted the judge who oversaw the trial, U.S. District Court Judge Richard Bennett, to ask another judge, U.S. Magistrate Judge Stephanie Gallagher, to investigate the accusations, which she is currently doing. On May 13 she sent a letter to the Justice Department's Public Integrity Section requesting that they weigh in on the matter. She gave them until June 12 to respond.
The presumed targets of Gallagher's investigation are the Defense Department's former acting inspector general, Lynne Halbrooks, and current Pentagon IG General Counsel Henry Shelley, reported Government Executive.
Bennett called the prosecution of Drake "unconscionable" after the trial concluded, saying the effort didn't "pass the smell test." Drake was sentenced to community service and probation.
"OIG lawlessness is a primary cause of media leaks," Government Accountability Project legal director Tom Devine told Government Executive. "If whistleblowers cannot trust the inspector general, only those with a martyr complex will work within the system. The whistleblower community will be watching very closely whether the Justice Department takes this referral seriously. It is time for accountability to become a two way street."
-Noel Brinkerhoff, Danny Biederman
To Learn More:
Judge Probes Destruction of Evidence in NSA Leak Prosecution (by Marisa Taylor, McClatchy)
Former Pentagon IG Official Probed for Destroying Documents (by Charles Clark, Government Executive)
Judge Slams Government Lawyers in Failed Whistleblower Case (by Noel Brinkerhoff, AllGov)
Obama Anti-Whistleblower Case Collapses (by Noel Brinkerhoff, AllGov)