In No State can a Minimum Wage Worker Afford a One-Bedroom Rental for Fewer than 49 Hours of Work a Week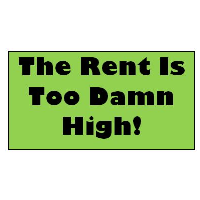 Even as some states and municipalities are raising the minimum wage past the federal $7.25 an hour level set in 2009, those increases are not enough for someone working a normal 40-hour week to afford a one-bedroom apartment.
A report (pdf) by the National Low Income Housing Coalition shows that the housing wage, defined as an estimate of the full-time hourly wage that a household must earn to afford a decent apartment at the Department of Housing and Urban Development's estimated fair market rent, while spending no more than 30% of income on housing costs, varies wildly from state to state depending on prevailing rents and the minimum wage. But in no case can anyone working 40 hours a week for minimum wage afford a one-bedroom apartment. Puerto Rico comes closest; there a person would have to work "only" 48 hours a week to afford a place to live. South Dakota rents require 49 hours of work and West Virginia 53.
Hawaii requires the most hours, 125 at that state's minimum wage, to afford a one-bedroom apartment. Living in Maryland requires 101 hours, and minimum wage workers in the District of Columbia must put in 2½ weeks' worth of labor, 100 hours each week, to afford a place in the nation's capital. New Jersey also clocks in at 100 hours.
The problem is only getting worse. Rents continue to rise because of a shortage of available properties and the few apartments reserved for low-income tenants are quickly snapped up. The brunt of the shortage is borne by Extremely Low Income (ELI) renters, who spend more than half their income on housing, with their remaining funds being parceled out to food and other necessities. ELI households bring in no more than $1,696 a month, and the one-bedroom fair market rent nationwide is now at $806, with a two-bedroom going for $1,006.
There are some low-cost housing and housing vouchers available, but they're oversubscribed in most areas. The National Housing Trust Fund does help those in need, but its funding, paid for by a .042% assessment on new business of Fannie Mae and Freddie Mac, was suspended during the financial crisis that began at the end of the George W. Bush administration and was restored only last December. Still more funding is needed to provide housing to all.
-Steve Straehley
To Learn More:
Out of Reach 2015 (National Low Income Housing Coalition) (pdf)
4 out of 5 New Big City Rental Buildings are Luxury Apartments (by Noel Brinkerhoff and Steve Straehley, AllGov)
Housing Trust, Penniless for 7 Years, Finally Gets Funding to Fight Homelessness (by Noel Brinkerhoff, AllGov)
Affordable Rent Slips out of Reach for Majority of Renters (by Noel Brinkerhoff, AllGov)
Minimum Wage, Factoring for Inflation, is Lower than in 1956 (by Noel Brinkerhoff, AllGov)
Renters Still Feeling Increasing Pressure of Economic Crisis…Record Level Spends Half of Income for Housing (by Noel Brinkerhoff and David Wallechinsky, AllGov)