4 out of 5 New Big City Rental Buildings are Luxury Apartments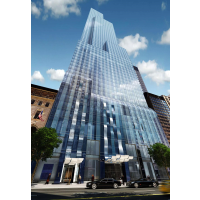 Luxury apartment building in New York City (photo: Extell Development Company)
The effects of the housing bubble last decade forced millions out of their own homes and into rental properties, creating a tight market. Now middle-class renters are getting squeezed again, this time by developers who prefer to cater to those seeking luxury apartments.
The Wall Street Journal reported that from 2012 to 2014, 82% of the 370,000 multifamily rental units constructed in 54 U.S. metropolitan areas were in the luxury category. In cities such as Atlanta, Denver, Tampa, Baltimore and Phoenix, nearly all new apartment construction has been targeted to high-end renters, Laura Kusisto reported.
"I don't believe there ever has been a time where we have produced so much luxury rental housing," Susan Wachter, professor of real estate at The Wharton School of the University of Pennsylvania, told Kusisto.
The boom in luxury units has been great for the affluent, while "many middle-class and young workers are straining to rent the units, in part because they have few others choices," Kusisto wrote.
Now some cities and states are working to make rental housing more affordable not only for lower-income people, but those in the middle class. Atlanta, for instance, is considering a requirement that developers reserve some units that those of average incomes can afford. "Individuals who are considered to be middle class…school teachers, city employees and bank tellers need housing subsidy as well," Terri Lee, deputy commissioner at the city's Department of Planning and Community Development, told the Journal.
Even those efforts aren't always enough. The recently-opened New York building that infamously includes a "poor door" for its residents of the mandated affordable apartments had about 90,000 applicants for the 55 available units, according to ThinkProgress.
-Noel Brinkerhoff, Steve Straehley
To Learn More:
New Luxury Rental Projects Add to Rent Squeeze (by Laura Kusisto, Wall Street Journal)
America's Housing Developers Are Almost Exclusively Building Luxury Units (by Alan Pyke, ThinkProgress)
Affordable Rent Slips out of Reach for Majority of Renters (by Noel Brinkerhoff, AllGov)