10 House Members who Friended the Azerbaijan Dictatorship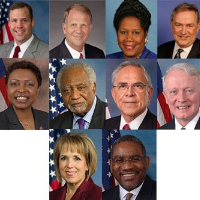 Azerbaijan's friends in U.S. Congress - (L to R by rows from top:) Bridenstine, Poe, Jackson Lee, Stockman, Clark, Davis, Hinojosa, Lance, Lujan Grisham, Meeks
Ten members of the U.S. House and some staff members accepted free travel and other perks from Azerbaijan's oil company and two nonprofits that received money from the state-owned business.
The State Oil Company of the Azerbaijan Republic (SOCAR) used two nonprofit organizations in the U.S., the Turquoise Council of Americans and Eurasians (TCAE) and the Assembly of the Friends of Azerbaijan (AFAZ), to conceal $750,000 used to fund the travel for the lawmakers and 32 staffers to attend a conference in Azerbaijan in May 2013. The trip prompted a congressional ethics investigation that produced a report given to The Washington Post.
The 10 lawmakers were Democrats Rubén Hinojosa and Sheila Jackson Lee of Texas, Danny K. Davis of Illinois, Yvette D. Clarke and Gregory W. Meeks of New York, and Michelle Lujan Grisham of New Mexico, and Republicans Jim Bridenstine of Oklahoma, Steve Stockman of Texas, who's now out of office, Ted Poe of Texas and Leonard Lance of New Jersey.
The politicians and their "staff members received hundreds of thousands of dollars' worth of travel expenses, silk scarves, crystal tea sets and Azerbaijani rugs valued at $2,500 to $10,000, according to the ethics report. Airfare for the lawmakers and some of their spouses cost $112,899, travel invoices show," Scott Higham, Steven Rich and Alice Crites reported.
Upon returning from Azerbaijan, Bridenstine sponsored an amendment to the defense appropriations bill that would have required the Defense Department to issue reports on the strategic importance of natural gas interests in the Caspian Sea area and the value of building a pipeline out of the region, according to OpenSecrets.org. The amendment was not part of the bill that was eventually signed into law.
The Azerbaijani government restricts its citizens' freedom of assembly and association and imprisons those who criticize the regime, according to Amnesty International.
-Noel Brinkerhoff, Steve Straehley
To Learn More:
Lawmakers Who Traveled To Azerbaijan Urged Action Benefiting State Oil Company That Funded Trip (by Russ Choma, OpenSecrets.org)
10 Members Of Congress Took Trip Secretly Funded By Foreign Government (by Scott Higham, Steven Rich and Alice Crites, Washington Post)
Report: U.S. Lawmakers Had Trip Funded By Azerbaijan (by Scott Higham, Steven Rich, Alice Crites and Katie Park, Washington Post)
Azerbaijan Dictatorship Raids Office of U.S.-Funded Radio Free Europe (by Steve Straehley, AllGov)