Azerbaijan Dictatorship Raids Office of U.S.-Funded Radio Free Europe
Sunday, December 28, 2014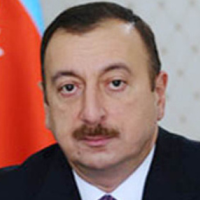 Azeri dictator Ilham Aliyev
Investigators from the state prosecutor's office in Azerbaijan raided the Baku offices of Radio Free Europe (RFE), confiscating computers and other items and ordering the office closed.
Staff members were held incommunicado during the December 26 raid. Three weeks ago, Khadija Ismayilova, an investigative journalist and contributor to U.S. government-funded Radio Free Europe and Radio Liberty, was jailed in Baku. RFE is one of the few media outlets in Azerbaijan that is independent of the Azeri government and Ismayilova has published numerous reports on corruption involving Azerbaijani President Ilham Aliyev and his family. Aliyev has ruled Azerbaijan since 2003, when he took over from his father, Heydar Aliyev, who had been in charge for the previous ten years.
"The operation of our bureau is paralyzed in Baku," Kenan Aliyev, the director of the Azerbaijani Service, said. "There has been a long ongoing crackdown on the media and NGOs in Azerbaijan, including the arrest of Khadija Ismayilova, the host of our show and our contributor. We view this as part of this ongoing campaign against independent media."
RFE's Baku staff is continuing to work from private apartments, according to chief editor Nenad Pejic. He expected only a minor impact on programming, with journalists in Prague updating online and TV operations.
RFE had already come under fire from the Azerbaijan government. Earlier this month, Azeri Chief of Staff Ramiz Mehdiyev criticized the bureau in a 60-page statement. "Overall, there is an understanding within the society that Radio Azadliq and its employees are on a disgusting path," Mehdiyev said. "There is no need to prove that provision of false information is the same as working for the foreign secret service. This is treason."
Press freedom has been steadily eroding in Azerbaijan. Reporters Without Borders ranked the country 160th out of 180 in its press freedom index this year, four places worse than its 2013 ranking.
-Steve Straehley
To Learn More:
U.S. Official, BBG Slam Raid On RFE/RL's Baku Bureau (Radio Free Europe/Radio Liberty)
Azerbaijan Authorities Raid, Close Radio Free Europe Bureau (Voice of America)
Police Question Azerbaijan Citizens Over "Unpatriotic" Song Voting (Noel Brinkerhoff, AllGov)