Houston FBI Justified Spying on Protesters by Saying Keystone Pipeline was Vital to National Security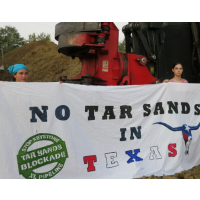 Keystone XL protesters in Texas (photo: Tar Sands Blockade)
Federal Bureau of Investigation (FBI) agents in Houston spied on environmental opponents of the Keystone XL pipeline, claiming it was important to do so in the name of protecting the project and thus the nation's security.
The revelation surfaced after The Guardian newspaper and Earth Island Journal obtained FBI internal documents showing that officials admitted the agency violated its own rules in the course of spying on Keystone demonstrators. The violations included agents not getting approval from senior officials before they cultivated informants and opened files on activists—some of whom practiced nonviolent civil disobedience.
But to agents in the Houston office, the targeted demonstrators were environmental extremists. "Many of these extremists believe the debates over pollution, protection of wildlife, safety, and property rights have been overshadowed by the promise of jobs and cheaper oil prices," the FBI document states, according to Earth Island Journal. "The Keystone pipeline, as part of the oil and natural gas industry, is vital to the security and economy of the United States."
The spying began in early 2013—"several months after a high-level strategy meeting between the agency and TransCanada, the company building the pipeline," Adam Federman and Paul Lewis wrote at Earth Island Journal. For as many as eight months, the FBI monitored members of the protest group Tar Sands Brigade. Brigade organizer Ron Seifert said dozens of campaigners were arrested in Texas for protest-related activity but none was accused of violent crime or property destruction.
The FBI said the investigation was an "administrative error" that "was discovered by the FBI's internal oversight mechanisms," according to The New York Times.
-Noel Brinkerhoff
To Learn More:
Revealed: FBI Violated Its Own Rules While Spying on Keystone XL Opponents (by Adam Federman and Paul Lewis, Earth Island Journal)
FBI Says It Broke Its Rules in Inquiry of Keystone Pipeline Opponents (by Michael Schmidt, New York Times)
FBI Zeroes in on Anti-Oil Sands Protesters (by Noel Brinkerhoff and Steve Straehley, AllGov)