Record False Claims Settlement in a Case not Supported by Justice Dept.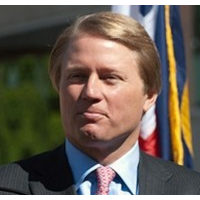 DaVita CEO Kent Thiry (AP photo)
DaVita Healthcare Partners has agreed to pay $495 million for making false claims, a record in a case in which the U.S. Department of Justice was not involved.
Two whistleblowers, Alon Vainer and Daniel Barbir, who worked for DaVita renal clinics in Georgia, accused DaVita in a false claims case of dumping renal care supplements Zemplar and Venofer down drains so it could overcharge Medicare and Medicaid.
Before the case was settled, plaintiffs' attorneys sought sanctions against DaVita for an expert giving false testimony and improper coaching of witnesses. DaVita denied the charges, but District Judge Charles Pannell said (pdf) the company at least led the plaintiffs astray by not correcting the false testimony and at worst "purposely manipulated the evidence and witnesses to hide the truth from the (plaintiffs) and the court."
The whistleblowers will share in a quarter to a third of the settlement.
If the name DaVita sounds familiar, it might be because it reached another multimillion dollar settlement only last year for making false claims.
In 2014, DaVita agreed to pay $350 million to settle another whistleblower's accusations that it paid kickbacks to doctors to get them to refer patients to the company's dialysis centers. The Justice Department did participate in that case.
"Health care providers should generate business by offering their patients superior quality services or more convenient options, not by entering into contractual agreements designed to induce physicians to provide referrals," Deputy Assistant Attorney General for the Justice Department's Civil Division Jonathan F. Olin said in statement released last October.
-Noel Brinkerhoff, Steve Straehley
To Learn More:
DaVita to Pay $450 Million to Settle Record Unjoined False Claims Act Case (Corporate Crime Reporter)
Behind DaVita $450 Million False Claims Deal, a Defense Gone Awry (by Alison Frankel, Reuters)
DaVita to Pay $350 Million to Resolve Allegations of Illegal Kickbacks (U.S. Department of Justice)
Justice Dept. Sets Fraud Recovery Record; Half of Amount Comes from Bank of America and Johnson & Johnson (by Noel Brinkerhoff, AllGov)