Justice Dept. Sets Fraud Recovery Record; Half of Amount Comes from Bank of America and Johnson & Johnson
Friday, December 05, 2014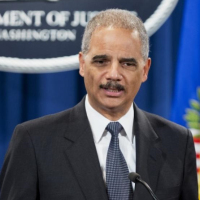 Attorney General Eric Holder (photo: Manuel Balce Ceneta, AP)
The Department of Justice under President Barack Obama has made it a priority to go after corporations for committing fraud and false claims, and officials have the dollar amounts from the settlements to show for it.
During the previous fiscal year, Justice lawyers obtained a record amount ($5.69 billion) in deals negotiated with the likes of Bank of America (BofA), Johnson & Johnson (J&J) and other violators.
Never before had the Justice Department exceeded $5 billion in cases under the False Claims Act (pdf), according to an agency press release.
Since Obama took office in January 2009, the agency has produced $22.75 billion in settlements under the act.
BofA and J&J accounted for half of the monies collected for fraud and false claims cases during FY 2014.
The bank agreed to pay $1.85 billion to resolve claims stemming from the housing and mortgage crisis, while J&J and its subsidiaries, Janssen Pharmaceuticals and Scios, paid $1.1 billion to resolve claims relating to the drugs Risperdal, Invega and Natrecor for marketing them for uses not approved by the Food and Drug Administration.
In addition, J&J paid "more than $600 million in civil claims for state Medicaid programs and $485 million in criminal fines and forfeitures, making this $2.2 billion global resolution of the government's claims one of the largest health care fraud settlements in U.S. history," according to the Justice Department.
"In the past three years, we have achieved the three largest annual recoveries ever recorded under the statute," Acting Associate Attorney General Delery said. "This sustained success demonstrates that these figures result not only from large individual matters, but from a continuous commitment year after year to pursue those who defraud taxpayers and to remain vigilant in identifying those who would unlawfully obtain money from the federal fisc."
Most claims filed on behalf of the government under the False Claims Act are through the law's whistleblower provisions. If the claim is successful, the whistleblower receives up to 30% of the recovery amount. The number of such suits filed in fiscal years 2013 and 2014 exceeded 700, amounting to nearly $3 billion in recoveries. Whistleblowers were awarded $435 million of that total.
-Noel Brinkerhoff
To Learn More:
Justice Department Recovers Nearly $6 Billion from False Claims Act Cases in Fiscal Year 2014 (U.S. Department of Justice)
Proposed $16 Billion Mortgage Loan Settlement against Bank of America not so Bad for BofA as it Appears (by Noel Brinkerhoff, AllGov)
Johnson & Johnson Agrees to Pay $2.2 Billion to Halt Probe of Illegal Marketing of Painkiller (by Noel Brinkerhoff, AllGov)