At Sentencing, 4 U.S. Mercenaries who Killed 14 in Iraq Claim they did Nothing Wrong
Wednesday, April 15, 2015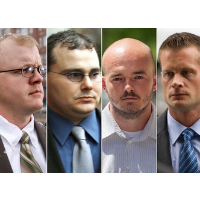 Paul Slough, Dustin Heard, Nicholas Slatten, Evan Liberty (AP photos)
Four former Blackwater Worldwide security guards who were convicted and sentenced to long-term prison sentences this week insist they are innocent of murdering 14 Iraqis.
The case stemmed from a shooting at a Baghdad traffic circle in 2007. One, Nicholas Slatten, who fired the shots that started the massacre, was given a life sentence. Three others, Paul Slough, Evan Liberty and Dustin Heard, were sentenced to 30 years plus one day after being convicted of multiple counts of manslaughter and attempted manslaughter.
Slatten told the courtroom "the verdict is wrong," adding: "You know I am innocent, sir."
Slough insisted "that I will be exonerated, in this life and the next," while Liberty remarked "as God is my witness," he fired only at insurgents who were shooting at him, according to The New York Times.
Heard apologized "for the loss of life," but also said, "I cannot say in all honesty to the court that I believe I did anything wrong."
U.S. District Judge Royce Lamberth, who was appointed to the bench by Ronald Reagan, rejected the claims of innocence. He also pointed out no witness testified to seeing the guards come under fire.
"It is clear these fine young men just panicked," Lamberth said, according to The Washington Post. "The overall, wild, thing that went on here can just not be condoned by a court. . . . A court has to recognize the severity of the crimes committed, including the number of victims."
The U.S. attorney's office said in a statement: "In killing and maiming unarmed civilians, these defendants acted unreasonably and without justification."
"In combination, the sheer amount of unnecessary human loss and suffering attributable to the defendants' criminal conduct on Sept.16, 2007, is staggering," the statement continued.
-Noel Brinkerhoff
To Learn More:
Four Blackwater Guards Sentenced in Iraq Shootings of 31 Unarmed Civilians (by Spencer S. Hsu and Victoria St. Martin, Washington Post)
Ex-Blackwater Guards Given Long Terms for Killing Iraqis (by Matt Apuzzo, New York Times)
Blackwater Verdict: Slatten Gets Life in Prison; 3 Others Sentenced to 30 Years (by Sam Hananel, Associated Press)
Blackwater Employees Convicted of Murder of 14 Iraqis (by Noel Brinkerhoff and Danny Biederman, AllGov)
Iraqi Survivors of Blackwater Massacre Finally get their Day in Court (by Noel Brinkerhoff and Danny Biederman, AllGov)