Blackwater Employees Convicted of Murder of 14 Iraqis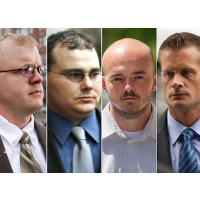 The four Blackwater guards found guilty of murder (AP photos)
After seven years, Iraqis finally received the justice they sought from the 2007 massacre in Baghdad's Nisour Square during the U.S. occupation.
Private security guards employed by Blackwater Worldwide opened fire on September 16 in the middle of a busy Baghdad intersection, killing 17 Iraqis. The Americans claimed they were fired upon first, but the Iraqi government rejected this assertion and sought to try the Americans in court.
After many delays and setbacks, four of the security guards were convicted in a U.S. federal court this week on charges ranging from murder to use of an automatic weapon. The determination was that the tragedy was the result of a criminal act, not the product of battlefield warfare.
"This verdict is a resounding affirmation of the commitment of the American people to the rule of law, even in times of war," Ronald C. Machen Jr., the U.S. attorney in Washington, told the media. "Seven years ago, these Blackwater contractors unleashed powerful sniper fire, machine guns and grenade launchers on innocent men, women and children. Today, they were held accountable for that outrageous attack and its devastating consequences for so many Iraqi families."
Notably, Blackwater founder Erik Prince was neither criminally charged nor held responsible for the actions of his subordinates. "Just as with the systematic torture at Abu Ghraib, it is only the low level foot-soldiers of Blackwater that are being held accountable," wrote Jeremy Scahill at The Intercept. "Prince and other top Blackwater executives continue to reap profits from the mercenary and private intelligence industries."
During the 10-week trial, testimony was provided by witnesses to the slaughter at Nisour Square. Iraqi citizens recounted the indiscriminate shooting by the Blackwater guards, and the deaths of their children. Colleagues of the defendants also testified against them.
The massacre was "the most horrible, botching thing I've ever seen in my life," testified former Blackwater contractor Matthew Murphy. "I've seen people completely unarmed, people doing nothing wrong, get shot."
The prosecution presented evidence that the four defendants had bragged about killing Iraqis, and that sniper Nicholas Slatten, who fired the first shots, "made statements that he wanted to kill as many Iraqis as he could as 'payback for 9/11.'"
Slatten was convicted of murder and faces a possible sentence of life in prison.
Three other defendants — Dustin Heard, Evan Liberty and Paul Slough — were convicted of voluntary manslaughter and using a machine gun to carry out a violent crime.
They each face a 30-year minimum sentence for the machine gun conviction alone, which is more than what they might receive for the manslaughter convictions, according to Matt Apuzzo at The New York Times.
A fifth guard, Jeremy Ridgeway, previously pleaded guilty to manslaughter and cooperated with prosecutors.
The defendants' lawyers are expected to appeal the ruling.
Blackwater changed its name twice in the aftermath of the shooting. It is currently known as Academi.
-Noel Brinkerhoff, Danny Biederman
To Learn More:
Blackwater Guards Found Guilty in 2007 Iraq Killings (by Matt Apuzzo, New York Times)
Murder Verdict Against Blackwater Guard for Shameful Iraq Firefight (by Lorraine Bailey, Courthouse News Service)
Blackwater Founder Remains Free and Rich While his Former Employees Go Down on Murder Charges (by Jeremy Scahill, The Intercept)
Iraqi Survivors of Blackwater Massacre Finally get their Day in Court (by Noel Brinkerhoff and Danny Biederman, AllGov)