As Hunting and Gun Ownership Decline, Remaining Gun Owners Stock Up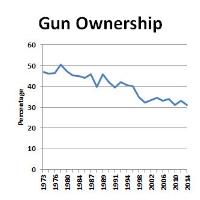 (graphic: Steve Straehley, AllGov)
Fewer Americans own guns or go hunting, but that doesn't mean gun sales are down.
A federally funded study shows the percentage of individuals who either own a gun or live with someone who does has declined from about 50% in late 1970s and early 1980s to only 32% by last year. The 32% rate tied a record low set in 2010, according to the Associated Press.
The General Social Survey (pdf), conducted by NORC, an independent research organization based at the University of Chicago, was supported with funding from the National Science Foundation. The survey "is a highly regarded source of data about social trends," according to the AP's Emily Swanson.
The researchers also found that the popularity of hunting has declined as well, going from 32% in 1977 to less than half that rate now. Furthermore, the number of Americans owning a firearm dropped from 31% in 1985 to 22% in 2014.
Swanson also reported that records maintained by the Federal Bureau of Investigation show "an increase in the number of background checks being run, suggesting the total number of firearms being purchased is going up."
The survey also found that the younger you are, the less likely you are to own a gun. Only 14% of those under age 35 own a gun, while 31% of those over age 65 do. That gap has widened; the numbers were much closer in 1980.
-Noel Brinkerhoff
To Learn More:
Major Survey Shows Gun Ownership Declining (by Emily Swanson, Associated Press)
Trends in Gun Ownership in the United States, 1972-2014 (by Tom W. Smith and Jaesok Son, NORC at the University of Chicago) (pdf)
One Third of Americans Own Guns, but Only 4% Go Hunting (by Noel Brinkerhoff, AllGov)