Defense Dept. Redefines Alcohol as a "Weapon" in Sexual Assault Cases
Wednesday, February 04, 2015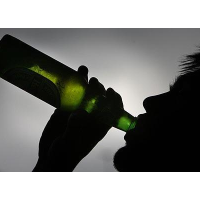 (AP photo)
The U.S. military has a new weapon, one that it would rather not see used by its personnel. Alcohol is now defined as a weapon by the Department of Defense when it comes to cases of sexual assault by members of the armed forces.
The change came about after outgoing Defense Secretary Chuck Hagel ordered his agency to review its alcohol polices in an effort to reduce the number of rapes within the military. "They include a department-wide review of institutional alcohol policies, which will be revised where necessary to address risks that alcohol poses to others, including the risk that alcohol is used as a weapon against victims in a predatory way," Hagel said last May. The new policy was reflected in the Pentagon's latest sexual assault prevention guide issued in December that describes alcohol as a weapon.
Civilian prosecutors are even calling alcohol a weapon in sexual assault cases involving military personnel. Katharina Booth, chief trial deputy and chief of the Boulder District Attorney's Office sexual assault unit, did so in pursuing her case against Air Force Academy cadet Daniel Ryerson, who is accused of sexually assaulting a drunk female classmate in November. She said the change comes from the realization that perpetrators are more likely to use alcohol to subdue their sexual assault victims than guns, threats and fists.
Sexual assault victims are less likely to report a crime if they had been drinking when they were attacked. "This combination of alcohol and sex assault is often a huge factor in the underreporting of sexual assault," Booth said. "There is a ton of misplaced self-blame there."
The Pentagon has also instructed military bases that serve alcohol to keep a watch for personnel who use alcohol as a weapon.
Alcohol is believed to play a role in nearly half of the 6,000 sexual assaults that took place in the military in 2014. It also played a role in at least a third of the sexual assaults on service academy campuses, according to a 2013 Defense Department study.
-Noel Brinkerhoff, Steve Straehley
To Learn More:
Alcohol Redefined as 'Weapon' In Sexual Assault Cases by Prosecutors, Military Officials (by Tom Roeder, The Gazette)
Here's Why the Navy's Legal System is Incapable of Dealing with Sexual Assault Cases (by Noel Brinkerhoff, AllGov)