Here's Why the Navy's Legal System is Incapable of Dealing with Sexual Assault Cases
Tuesday, September 24, 2013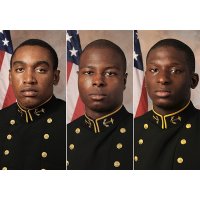 Midshipmen Tra'ves Bush, Eric Graham and Josh Tate (photos: U.S. Navy)
The U.S. Navy has come under intense scrutiny over its handling of an alleged rape at the Naval Academy in Maryland, where lawyers for the accused grilled a female midshipman for 30 hours about her sexual behavior and other topics.
The victim, whose identity has not been publicly revealed, said three members of the Navy's football team, ,Tra'ves Bush, Eric Graham and Josh Tate sexually assaulted her after she passed out at an off-campus party in April 2012.
But under Article 32 of the military's justice system, the defendants' legal defense was permitted to question their accuser in a manner that would never be allowed in a civilian court. Article 32 hearings are used to determine if there is sufficient evidence to to initiate a court-martial.
Over the course of four days, the defense attorneys asked the woman whether she wore a bra, how wide she opened her mouth during oral sex, and whether she had apologized to another midshipman with whom she had intercourse "for being a ho," according to The New York Times.
Many legal experts have criticized the Article 32 proceedings, arguing they discourage victims of sexual assault from coming forward.
"If this is what Article 32 has come to be, then it is time to either get rid of it or put real restrictions on the conduct during them," Jonathan Lurie, a professor emeritus of legal history at Rutgers University and the author of two books on military justice, told the Times.
"What this case shows is that we think the military justice system can somehow solve the sexual assault problem, but it can't," Diane H. Mazur, an emeritus law professor at the University of Florida, told the newspaper.
Other critics point to the Naval Academy case as an example for why Congress needs to adopt legislation authored by Senator Kirsten E. Gillibrand (D-New York) that would remove the prosecution of sexual assault cases from a victim's chain of command. Supporters of the bill say the change will encourage more victims to inform superiors about attacks, and that it will lead to more prosecutions.
The Department of Defense reported earlier this year that as many as 26,000 service members were targets of unwanted sexual contact in 2012, but only 3,374 incidents of sexual assault were reported.
As for the case against the three Navy football players, a military judge, Vice Adm. Michael H. Miller, who presided over the pretrial hearing, will decide in the coming weeks if the men should face courts-martial.
-Noel Brinkerhoff
To Learn More:
Navy Hearing in Rape Case Raises Alarm (by Jennifer Steinhauer, New York Times)
Military's Handling of Sex Assault Cases on Trial at Naval Academy Rape Hearing (by Melinda Henneberger and Annys Shin, Washington Post)
Judge Rules Sailors Found Guilty of Sex Assault cannot be Dishonorably Discharged Due to Inappropriate Remarks by Obama (by Matt Bewig, AllGov)