Half of California's Big Trees Are Gone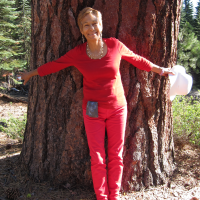 Redwood and friend (photo: David Wallechinsky)
For decades, big trees in California have fallen to loggers, development, fire and disease, but researchers say that isn't enough to account for the massive decline they recently catalogued.
A study published this week in the journal Proceedings of the National Academy of Sciences found a 50% drop in big trees, like pines, since the 1930s. But the breadth of the disappearance suggests global warming is more than just a contributing factor.
"What stands out is that this decline is statewide," study leader Patrick McIntyre told the UC Berkeley News Center. "Based on our data, water stress helps to explain the decline of large trees."
As a result, dense forests of pine trees are being replaced by scrubby oaks in semi-barren settings or as forest filler. Either way, the new trees don't absorb nearly as much carbon as the bigger trees, removing one of nature's major buffers against man's onslaught.
"Loss of these big trees and the impact of drought stress become a big concern going forward in terms of its impact on the carbon cycle; they can turn a carbon sink into a source of carbon released to the atmosphere," co-author David Ackerly said, sounding a warning fleshed out with data in the study.
The study was conducted by researchers at the University of California, Berkeley, UC Davis and the U.S. Geological Survey (USGS) as an extension of McIntyre's doctoral work. And it almost didn't happen.
Critical historical data for the study came from forest surveys conducted in the 1920s and 1930s by UC Berkeley alumnus Albert Wieslander, which were combined with Geological Survey data to provide a digitized picture of the state. The data, stored at Berkeley and in Sacramento, was almost tossed in the trash on multiple occasions, according to Maggi Kelly, one of the study co-authors.
"This is really an astonishingly broad and detailed depiction of vegetation in California at that time and it's important that through its nearly 100-year life it has almost been lost a number of times," she said.
The big trees, more than two feet in diameter, were found in decline from Southern California to the Northern Sierras. Some areas of SoCal showed nearly a 75% decline. They were in decline even in the wild, where logging and development were not factors. The study compares the numbers from 80 years ago with a survey taken between 2001 and 2010, so the current four-year drought is not a factor.
The decline is much worse than one tracked at Yosemite National Park, where declines over a comparable period were nearly 25%.
While fires are a factor in the decline, their effect appears to be the reverse of a layman's conventional thinking. The state's fire suppression efforts have fostered the growth of small trees, packed in tightly among their larger brethren, that compete for the same water resources. Smaller trees tend to burn more in forest fires.
It is only going to get worse for big trees with the advance of global warming. Many scientists think temperatures could rise 9 degrees by the end of the century. That might be enough to complete the "shrubification" of what National Geographic described as the "romantic grandeur" of California's big trees.
"It's kind of a less magical future having lost those trees," Princeton forest ecologist William Anderegg told the magazine.
Not everyone is so wistful about the loss of big trees. As Ronald Reagan said while speaking to the Western Wood Products Association on March 12, 1966, "we've got to recognize that where the preservation of a natural resource like the redwoods is concerned, that there is a common sense limit. I mean, if you've looked at a hundred thousand acres or so of trees—you know, a tree is a tree, how many more do you need to look at?
-Ken Broder
To Learn More:
California's Forests: Where Have All the Big Trees Gone? (by Warren Cornwall, National Geographic)
Warmer, Drier Climate Altering Forests Statewide (by Robert Sanders, UC Berkeley News Center)
California's Forests Have Lost Half Their Big Trees, and Climate Change May Be to Blame (by Lydia O'Connor, Huffington Post)
Twentieth-Century Shifts in Forest Structure in California: Denser Forests, Smaller Trees, and Increased Dominance of Oaks (University of California, Berkeley, UC Davis and the U.S. Geological Survey) (pdf)