U.S. Court Cleared to Rule on Who Owns 1 Million Barrels of Oil from Iraqi Kurdistan
Tuesday, January 13, 2015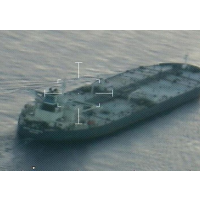 Kurdish oil tanker off coast of Galveston, Texas, awaits court ruling (photo: U.S. Coast Guard)
The fate of more than one million barrels of oil from northern Iraq, which has sat in a tanker off the Texas coast since last summer, has gotten another step closer to being resolved now that a federal judge has decided (pdf) the case falls within the jurisdiction of U.S. courts.
The government of Iraq has fought to keep the oil from being delivered to a U.S. port, claiming it was illegally shipped out of the northern part of the country, known as Kurdistan.
The semiautonomous government of Kurdistan has claimed it was within its rights to take the oil, which was extracted from wells in its territory, and sell it overseas.
But the Iraqi government has insisted the 1.03 million barrels of oil belong to Iraq, and officials don't want to set a precedent by allowing the Kurds to sell oil on their own without the approval of Baghdad.
The legal battle over who controls the oil landed in a U.S. court in July, where lawyers for both sides filed competing motions. The following month, U.S. District Judge Gray Miller ruled for Kurdistan and dismissed the lawsuit, explaining that the theft did not occur at sea, making U.S. maritime law inapplicable to the case. Iraq then filed several new complaints, one of which Miller accepted as having merit in its argument that the U.S. courts have jurisdiction in the case.
Meanwhile, the oil has sat in the tanker United Kalavrvta, which has remained 60 miles off the coast of Galveston.
Kurdistan reportedly has a buyer for the oil—identified in court documents only as "John Doe"—but cannot deliver it until the court case is resolved for fear the Obama administration might step in and seize the oil as a favor to the Iraqi government.
Settlement talks are underway between the opposing parties, and Miller has ordered them to report their progress by January 17.
-Noel Brinkerhoff, Danny Biederman
To Learn More:
U.S. Court Can Weigh Mideast Oil Dispute (by Cameron Langford, Courthouse News Service)
Ministry of Oil of the Republic of Iraq v. 1,032,212 Barrels of Crude Oil aboard the United Kalavrvta (U.S. District Court Southern Texas) (pdf)
Battle Rages Over $100 Million Worth of Middle East Oil Sitting Off Coast of Texas (by Danny Biederman and Noel Brinkerhoff, AllGov)