Wikipedia Searches Now Used to Monitor Global Disease Outbreaks
Tuesday, December 30, 2014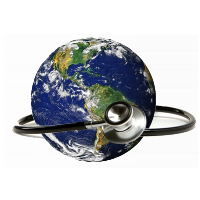 (graphic: FDA)
The popularity of Wikipedia is helping scientists predict disease outbreaks before they occur, according to researchers at Los Alamos National Laboratory.
By searching views of Wikipedia articles by individuals seeking information on diseases, scientists were able to determine the early stages of an outbreak, they said. They could do this because, they found, people feeling ill start searching for disease-related information on Wikipedia before they go to a doctor.
"A global disease-forecasting system will improve the way we respond to epidemics," Sara Del Valle, a study co-author, said. "In the same way we check the weather each morning, individuals and public health officials can monitor disease incidence and plan for the future based on today's forecast."
The researchers said that through Wikipedia, they observed flu outbreaks in the United States, Poland, Japan and Thailand. They also tracked cases of dengue fever in Brazil and Thailand, and tuberculosis (TB) in China and Thailand.
With the exception of the TB outbreak in China, the team was able to forecast all of the disease outbreaks at least 28 days in advance.
-Noel Brinkerhoff
To Learn More:
Global Disease Monitoring and Forecasting with Wikipedia (by Nicholas Generous, Geoffrey Fairchild, Alina Deshpande, Sara Y. Del Valle and Reid Priedhorsky, PLoS Computational Biology)
Using Wikipedia to Forecast Diseases (Los Alamos National Laboratory)
U.S. and Global Partners Launch Assault on Infectious Disease Threats (by Noel Brinkerhoff, AllGov)