Global Conventional Arms Export Treaty Takes Effect…but without U.S. Participation
Friday, December 26, 2014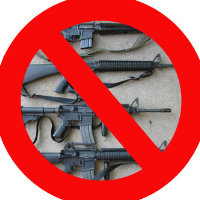 (graphic: Steve Straehley, AllGov)
The international community is hailing the implementation of a new treaty to curb the exportation of guns and other weapons of warfare. Too bad the world's biggest seller of such armaments isn't abiding by the agreement.
The United States has so far refused to ratify the Arms Trade Treaty (ATT), which officially took effect on December 24.
The ATT, called "historic" and "a milestone" by supporters, is supposed to contain the "unbridled arms dealing" that has fueled conflicts around the globe. So far, 130 nations have signed the treaty, with 60 of those ratifying it.
The U.S., which sells more military hardware by far than any other nation, signed the treaty in 2013, but it hasn't been ratified by the Senate. Other arms producing nations that haven't agreed to the treaty are China, Russia, India and Pakistan.
The ATT doesn't contain any enforcement provisions for those who have signed on, which undercuts UN Secretary-General Ban Ki-moon's statement: "From now on, the States Parties to this important treaty will have a legal obligation to apply the highest common standards to their international transfers of weapons and ammunition."
The treaty regulates cross-border transfer of conventional weapons from small arms to tanks.
-Noel Brinkerhoff
To Learn More:
Is The New UN Arms Treaty A Boon For German Industry? (DW)
UN Officials Hail Entry Into Force Of Landmark Global Arms Trade Treaty (United Nations)
Global Arms Trade Deal Takes Effect (BBC News)
U.S. Joins 153 Nations to Approve World's First Global Conventional Arms Treaty; Republican Senators to Fight Ratification (by Noel Brinkerhoff and Danny Biederman, AllGov)