FDA Says Gay Men Can Now Donate Blood…if They're Celibate
Friday, December 26, 2014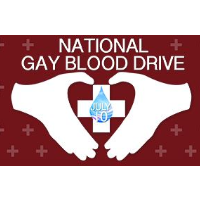 Gay men can now donate blood for the first time in more than 30 years, under a new policy adopted Tuesday by the Food and Drug Administration (FDA). The catch is that they can't have had sex with another man for at least a year.
The FDA's decision ends a rule in effect since 1983, when AIDS was just beginning to enter the American consciousness. The prohibition on gay men serving as blood donors was intended to keep the nation's blood supplies free of HIV, which was difficult to detect in the early years of the crisis. But with advances in medical testing that can show whether someone is HIV-positive within nine days of infection, FDA officials decided it was time to ease up on the restriction.
The agency instituted the 12-month ban because "compelling scientific evidence is not available at this time to support a change to a deferral period less than one year while still ensuring the safety of the blood supply."
Gay rights advocates complained that the new rule still discriminates against gay men, who must remain celibate for 12 months to give blood, while heterosexual men are only subject to the same year-long restriction if they have sex with prostitutes or with those who use injectable drugs.
Gay Men's Health Crisis (GMHC), a provider of HIV/AIDS care, said in a statement that the new rule was "offensive and harmful," and would continue "to fan the flames of the outdated stereotype that HIV is only a 'gay disease.'"
"This new policy does not require heterosexual blood donors to be celibate for one year. Some may believe this is a step forward, but in reality, requiring celibacy for a year is a de facto lifetime ban," GMHC added. "Since the first days of epidemic, GMHC has witnessed first-hand how fear, stigma, and discrimination have fueled the spread of HIV."
The FDA has calculated that the change could add about 317,000 pints to the nation's blood supply each year, according to The New York Times. That would be an increase of 2% to 4%.
-Noel Brinkerhoff
To Learn More:
FDA Easing Ban on Gays, to Let Some Give Blood (by Sabrina Tavernise, New York Times)
Gay Groups Decry New FDA Rule Requiring Celibacy to Donate Blood (by Miranda Leitsinger, NBC News)
Troubles in the Blood Industry (by Noel Brinkerhoff and Steve Straehley, AllGov)
Democratic Senators Move to End Ban on Gay Blood Donations (by Noel Brinkerhoff, AllGov)