Troubles in the Blood Industry
Thursday, August 28, 2014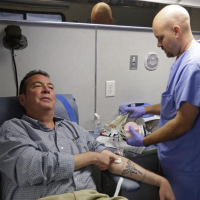 Blood donor (photo: Michael Conroy, AP)
The blood business is hemorrhaging money and jobs due to changes in medicine that have reduced the need for transfusions.
With minimally invasive surgical techniques such as laparoscopy now common and surgeons no longer routinely ordering transfusions after some procedures, hospitals don't need to stock as much blood as they once did. But falling demand has hurt those in the blood business, such as the Red Cross.
Matthew Wald at The New York Times reports transfusions are down about 30% since 2009, going from 15 million units to 11 million. Blood banks' revenue is falling as well, down about $1.5 billion a year from a peak of $5 billion.
The Red Cross told Wald that up to 12,000 blood bank jobs may be eliminated over the next three to five years, representing about 25% of the industry total. "Officials there expressed some concern that the decline could reduce the system's ability to respond to crises or to invest in new products or research," Wald wrote.
As the whole blood industry retrenches, four pharmaceutical companies that sell blood products have been accused of attempting to fix prices.
San Mateo County, California, filed suit against CSL Limited, CSL Behring, CSL Plasma, Baxter International, along with the Plasma Protein Therapeutics Association trade group, according to Courthouse News Service. According to the suit, "beginning in 2003 CSL and Baxter, along with the trade group Plasma Protein Therapeutics Association, conspired to reduce the supply of plasma-derivative protein therapies. This conspiracy caused artificial shortages of IVIG and albumin, which in turn caused inflated prices for those therapies that were paid by Plaintiff."
The defendants sought partial summary judgment against San Mateo County, saying it couldn't prove it was overcharged for the drugs, but last week a judge denied the request.
-Noel Brinkerhoff, Steve Straehley
To Learn More:
Blood Industry Shrinks as Transfusions Decline (by Matthew Wald, New York Times)
Pharma Firms Can't Duck Antitrust Claim (Courthouse News Service)
Selling Donated Blood is Big Business in U.S. (by Danny Biederman and Noel Brinkerhoff, AllGov)