Sabra and Shatila Refugee Camps back in the News 32 Years after Christian Massacres
Tuesday, December 02, 2014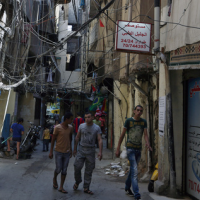 Shatila refugee camp (photo: Bilal Hussein, AP)
Those who recall Israel's invasion of Lebanon in 1982 are familiar with the words Sabra and Shatila: the refugee camps in Beirut where hundreds of Palestinians were slaughtered by Lebanese Christian militia as Israeli troops watched.
Memories of the massacre have not disappeared, nor have the camps themselves. They have become permanent urban slums that now are attracting another kind of refugee: Syrians fleeing their war-torn country. The influx from Syria has caused the populations of Sabra and Shatila to double in size to a combined 40,000 people in both camps.
"The newcomers, pouring into narrow streets and cramped concrete-block apartments, are among more than a million people who have streamed from Syria into Lebanon — a country of four million when the war started — and are radically reshaping neighborhoods like these," Anne Barnard wrote at The New York Times.
Businesses catering to Syrians have already popped up in the two camps, and longtime residents have rented out floor space to those in need of shelter.
Thirty-two years ago, Palestinians thought they had found safe harbor in the camps while Israeli Defense Forces attacked the PLO. Instead, about 800 of them died after Christian militants stormed Sabra and Shatila and unleashed a three-day massacre—all while Israeli soldiers guarded the camps' perimeter.
-Noel Brinkerhoff
To Learn More:
Palestinian Refuge for 6 Decades, Now Flooded From Syria (by Anne Barnard, New York Times)
Why Do They Hate Us? (by David Wallechinsky, Huffington Post)
Sabra and Shatila Massacre (Wikipedia)