Host of Soccer's 2022 World Cup Accused of Harboring and Financing Terrorists
Wednesday, November 19, 2014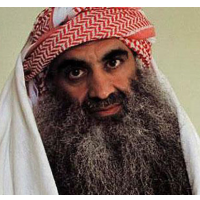 Khalifa Muhammad Turki al-Subaiy (photo: Red Cross)
Qatar has about seven years to do something about its terrorist-harboring reputation before hosting the world's biggest soccer event.
The Middle Eastern country is scheduled to host the 2022 World Cup.
But another kind of hosting has now put Qatar in some trouble with Western officials: Two of al Qaeda's top financiers are reportedly living with impunity in Qatar, according to the British newspaper The Telegraph.
Khalifa Muhammad Turki al-Subaiy and Abd al-Rahman bin Umayr al-Nuaymi are living in the capital city of Doha without restrictions, an American treasury official, David Cohen, said in a transcript obtained by the newspaper.
"There are US- and UN-designated terrorist financiers in Qatar that have not been acted against under Qatari law. There's Khalifa al-Subaiy — and more recently, Abd al-Nuaymi, who we designated last December, the UN designated in August," the transcript says.
Both men are on an international terrorism blacklist. They also have close ties to the country's ruling elite.
Meanwhile, the Qatari government insists it does not support terrorism, and it refuses to disclose any information about al-Subai and al-Nuaymi.
"Arrests, indictments and convictions are only one dimension of whether Qatar is taking the fight against terrorism seriously, but historically it is one of several dimensions in which the [ruling] al-Thani family has miserably failed the test," Dr David Weinberg, a senior fellow at the Washington-based Foundation for Defense of Democracies, told The Telegraph. "Doha's token participation in air strikes against the Islamic State was intended to show that they are on our side in the fight against terror, but these sorts of revelations really put to the test whether Qatar can be considered a reliable friend and ally."
The Qatari government created its own terrorist watch list, but there isn't a single name on it.
-Noel Brinkerhoff, Danny Biederman
To Learn More:
Terror Financiers Are Living Freely in Qatar, US Discloses (by Robert Mendick, The Telegraph)
Terror Financiers Operate Freely in Qatar: U.S. (Homeland Security News Wire)