Report Shows Voter ID Laws Cut Participation in 2012 Election in Kansas and Tennessee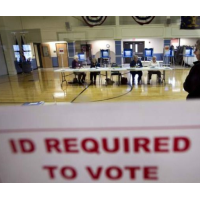 (AP Photo)
Laws mandating Americans to show identification before voting resulted in lower turnout in at least two states that embraced the controversial requirement.
In a new report, the Government Accountability Office (GAO) found that Kansas and Tennessee experienced fewer people voting between the 2008 and 2012 elections after adopting voter ID legislation.
Kansas' and Tennessee's drops were about 2% and 3% greater, respectively, than turnout in four states (Alabama, Arkansas, Delaware, and Maine) that didn't embrace voter ID laws.
"GAO's analysis suggests that the turnout decreases in Kansas and Tennessee beyond decreases in the comparison states were attributable to changes in those two states' voter ID requirements," the report said.
The drop was even sharper in Kansas and Tennessee among young voters (18 to 23) and black voters (compared to whites, Hispanics and Asians), the Associated Press (AP) reported.
"Estimated falloff among black voters was nearly 4 percent greater than it was among whites in Kansas, and almost 2 percent larger among blacks than for whites in Tennessee, the report said," wrote AP's Alan Fram.
Thirty-three states to date have imposed voter ID laws, according to the GAO.
Democratic politicians have opposed this requirement, claiming Republicans have used it to curb minority participation in elections.
"This study confirms the real impact of Republican efforts to limit access to the ballot box. Playing politics with the right to vote is a shameful practice," Senator Chuck Schumer (D-New York) told AP.
-Noel Brinkerhoff
To Learn More:
Elections: Issues Related to State Voter Identification Laws (Government Accountability Office) (see pages 44+)
Voter ID Laws and the Empirical Evidence: A Comprehensive Report from the Government Accountability Office (by John Wihbey, Journalist's Resource)
Study: Voter ID Laws Cut Turnout by Blacks, Young (by Alan Fram, Associated Press)
City vs. State: Memphis Sues Tennessee over Voter ID Law (by Noel Brinkerhoff and David Wallechinsky, AllGov)
Voter ID Laws Could Take Vote away from 25,000 Transgender Americans (by Noel Brinkerhoff, AllGov)
New State Laws Could Reduce Voter Lists by 5 Million (by David Wallechinsky, AllGov)