New State Laws Could Reduce Voter Lists by 5 Million
Tuesday, October 04, 2011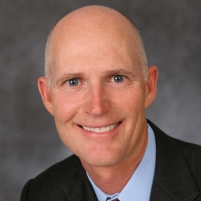 Anti-voting advocate Gov. Rick Scott of Florida
New state laws adopted around the country may result in more than five million eligible voters not participating in next year's election.
The
Brennan Center for Justice
examined 19 laws (plus two executive actions) that were passed in 14 states this year, and concluded that many of the new rules could prevent millions of people from voting.
Those most likely to be impacted are minority, low-income and young voters.
The restrictive laws, almost all of which have been pushed by Republicans, fall into five categories:
Photo ID Laws
One of the more popular electoral reforms passed by legislatures in 2011 was the requirement to show photo ID when registering or voting. Introduced in 34 state legislatures, seven states actually adopted these laws: Alabama, Kansas, Rhode Island, South Carolina, Tennessee, Texas, and Wisconsin. With the exemption of Rhode Island, the legislature and governor's office of all of these states are controlled by Republicans. Georgia and Indiana already had laws requiring IDs for voting. The Brennan Center report estimates that 11% of American citizens—21 million people—do not have government-issued photo IDs.
Proof of Citizenship Laws
In 2004, Arizona passed a law requiring voters to present proof of citizenship to register to vote. The law was blocked in federal courts and is still working its way through the appeals process. Georgia passed a similar law in 2009, which was approved by the Department of Justice in April 2011. This year a dozen states introduced legislation requiring proof of citizenship in order to register or vote. But only three states approved this restriction: Alabama, Kansas and Tennessee.
Anti-Easy Voter Registration Laws
On May 19, Florida Governor Rick Scott signed into law a bill that, among others things, requires voter registration groups to pre-register with the state and to turn in all registration forms within 48 hours of signature. Texas passed two registration-related laws. One requires anyone intending to register voters, either as a volunteer or an employee, to take a mandatory training course and to pass an exam at the end of training. The other law forbids anyone who not a registerd vote in Texas from registering others.
Reducing Early Voting
Prior to this year, nine states allowed Election Day registration. This year, Maine and Ohio passed laws eliminating the right to register on Election Day. The Montana legislature passed a similar law, but it was vetoed by Democratic Gov. Brian Schweitzer. Florida, meanwhile, enacted a law taking away the right of voters to register a change of address on Election Day.
Five states, Florida, Georgia, Ohio, Tennessee, and West Virginia, passed laws this year that restrict early voting, primarily by limiting the number of days when it is available. Ohio also blocked county boards from mailing absentee ballot applications to all voters, or prepaying postage on absent voter's ballot applications.
Anti-Felon Voting Laws
Since 1997, 23 states passed legislation that restored voting rights to convicted felons who served their sentences or made it easier for them to regain their right to vote. In 2011, Republican Governors Rick Scott of Florida and Terry Branstad of Iowa issued executive orders permanently disenfranchising convicted felons.
-David Wallechinsky