Federal Push to Hire Veterans Reduces Jobs Available for Women
Thursday, October 09, 2014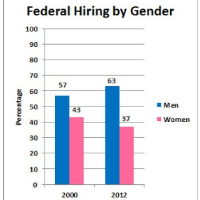 (graphic: Steve Straehley, AllGov)
The U.S. government has succeeded in providing more federal job opportunities for veterans in the wake of two major wars. But the emphasis on employing more ex-soldiers, most of whom are men, has wound up reducing the total of women being hired.
At the beginning of the 21st century, 43% of all new hires were women, but that dropped to 37% by 2012.
During that period, thousands of military personnel came home and reentered the workforce. Federal agencies did their part to help these men, and few women, become civil servants. "Our research shows that as use of veterans hiring authorities increased, the percentage of female new hires decreased," according to the Merit Systems Protection Board. Not only do veterans get extra "points" toward being hired, but each agency has hiring goals for veterans, according to The Washington Post.
In some job sectors, males dominated the hiring, such as for law enforcement (92%), engineering (83%) and IT (80%).
"This certainly is an ominous trend and is further proof that women still are not breaking into those 'non-traditional female' jobs like IT," Janet Kopenhaver with Federally Employed Women (FEW) told the Post in an email.
"Considering that more and more women are either the sole or major breadwinners in their families, obtaining employment in the federal government would greatly help these families," she added. "While FEW does not condone hiring unqualified employees, we do believe more outreach could be made to women to find qualified females who could be hired. Plus more training in these non-traditional jobs needs to be offered to women in order for them to have a more diverse skill set."
-Noel Brinkerhoff
To Learn More:
Report: Your Government is Getting More Male; Percentage of Women Hired is Falling (by Eric Yoder, Washington Post)
Obama Push to Hire Veterans into Federal Jobs Spurs Resentment (by Lisa Rein, Washington Post)
Federal Agencies Are Falling Behind on Hiring Women and Disabled Employees (by Eric Kat, Government Executive)
Women in the Federal Workforce: From FEW to Fewer (by Joe Davidson, Washington Post)
Women Own 30% of U.S. Businesses, but only get 4% of Federal Contract Dollars (by Noel Brinkerhoff and Steve Straehley, AllGov)
White Women and Latinos Underrepresented in Federal Workforce (by David Wallechinsky and Noel Brinkerhoff, AllGov)