In a First, Federal Court Panel Rules Collection of Cellphone Tower Data without a Warrant is Unconstitutional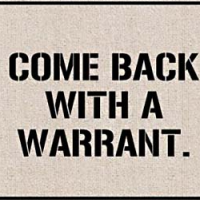 (graphic: Target.com)
Police cannot collect the location records of people's cell phones without a warrant, a federal appellate court panel has ruled for the first time.
The Eleventh Circuit Court of Appeals, which oversees cases in Alabama, Florida and Georgia, on Wednesday rejected what has become a routine practice by law enforcement: tracking a suspect's location via their cell phone. These violations of privacy, according to critics, have gone on without police having to establish probable cause of criminal activity by individuals.
Civil libertarians hailed the ruling, which applies only to the three states within the Eleventh Circuit's jurisdiction.
"The court's opinion is a resounding defense of the Fourth Amendment's continuing vitality in the digital age," Nathan Freed Wessler, an attorney with the American Civil Liberties Union who helped argue the case, said in a prepared statement.
"This opinion puts police on notice that when they want to enlist people's cell phones as tracking devices, they must get a warrant from a judge based on probable cause. The court soundly repudiates the government's argument that by merely using a cell phone, people somehow surrender their privacy rights," he added.
The ACLU says that until now, law enforcement was able to get away with obtaining cell phone histories from providers with only a "D-order" from a federal judge, which does not incorporate the probable cause standard established under the Fourth Amendment.
That was deemed unacceptable by the three-judge panel, which found "that cell site location information is within the subscriber's reasonable expectation of privacy. The obtaining of that data without a warrant is a Fourth Amendment violation."
The ruling could undermine the domestic spying activities of the National Security Agency (NSA). Jennifer Granick, civil liberties director at The Stanford Center for Internet and Society, told Wired that the ruling in U.S. v. Quartavious Davis had implications for the NSA's collecting of phone metadata, which is not unlike the police storing cell tower information.
The NSA argues that because the information it seeks is contained in business records, phone users have no expectation of privacy. Granick said Wednesday's ruling showed the defendant "had an expectation of privacy despite the fact that the cell data was also the company's business record."
Davis, a Florida man found guilty of helping rob multiple businesses, challenged his conviction on grounds that police had illegally obtained 11,000 location records from Davis' wireless carrier without a warrant to show he was in the area where the crimes were committed.
Although the appeals court ruled that police must seek warrants to get cell phone location information in the future, it said that in this instance, the police acted in "good faith" in getting the D-order. So Davis' 162-year sentence remains intact.
-Noel Brinkerhoff, Steve Straehley
To Learn More:
For First Time, Appeals Court Rules Warrant Is Required For Cell Phone Location Tracking (American Civil Liberties Union)
Cops Can't Collect Your Cell Tower Data Without a Warrant, Court Rules (by Kim Zetter, Wired)
U.S. v. Quartavious Davis (Eleventh Circuit Court of Appeals) (pdf)
U.S. Law Enforcement Intercepted Cell Phone Tower Data 9,000 Times in One Year (by Noel Brinkerhoff, AllGov)
NSA Can Track Every Cell Phone in the World, Collects 5 Billion Records per Day (by Noel Brinkerhoff, AllGov)